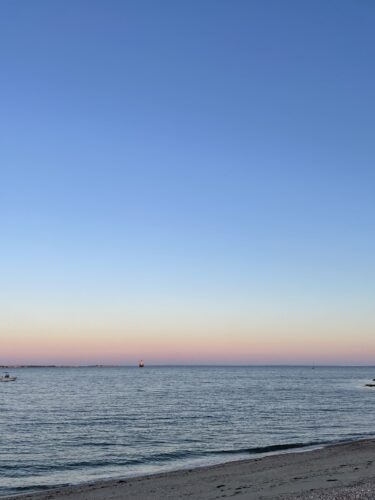 I've written before about the word "liminal" and about how it speaks to me.  Now we enter the most liminal of times, at least as far as I'm concerned: August.  We turn towards the fall, towards new school years and new beginnings, time marks another year past.  I have often thought it is not an accident that I'm born during this time, which I often experience with tears in my eyes, a faint sense of dread in my heart, and time's drumbeat in my ears.
That's truer than ever this year.  For some reason, summer's impending close is hitting me harder than usual this year.  I think that's probably because this is likely the last summer both kids will live with us, and we'll luxuriate in slow mornings and dinners on the porch.  These days are painfully numbered.  I have been writing about – obsessing about, let's be honest – time's irrevocable forward march since Grace and Whit were small.  But this obsession has roared back into my mind in the last few days and weeks.
All of this is at it should be.  I love my young adult children.  I honestly adore them more with every passing year, and thus far there hasn't been a year of parenthood that hasn't been better than the last.  That said, it's undeniable that something is ending, that the period of family life where we're all together draws to a close.
My previous post was called "the ache and the beauty," and if there's one thing I know for sure it's that those two things are inextricable from each other.  But all the knowing in the world doesn't insulate me from the pain of that ache, from the echoing sorrow it brings.  Ahhhh … I know.  I'm so upbeat, on this summer August morning when it's hot as hell on the Massachusetts coast, where I got Dunkin Donuts with Grace and can hear Whit's alarm going off down the hall.
Be here now.
I got temporary tattoos that say that, and I look at those words on my wrist now, daily.  I've always said that if I get a real tattoo, ever, it will be those three words on the inside of my wrist.
Onward.  As the days grow shorter – I can definitely sense a different texture in the light, a sense of something gathering to its end – and the approach of Real Life grows more clamoring.  I don't know how to handle the sadness that these developments bring, but I'm old enough now that I recognize its coming.  I try every year not to let my preemptive sadness about what's ending occlude my last days inside its joy.  I will try, again, anew.