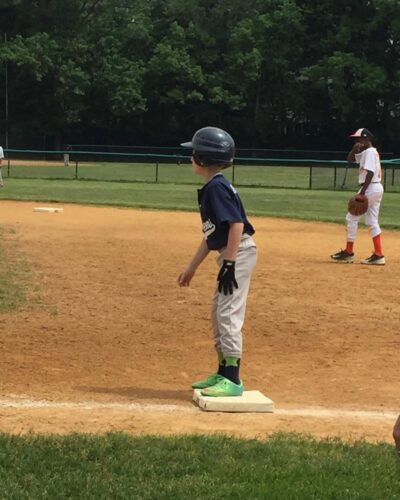 On Mondays and Wednesdays I walk Phoebe to doggie daycare a mile from our house, which makes me think of why we live where we live. Reminder: Matt and I moved into our house 21 years ago expecting it to be a 2-3 year house before we moved to a suburb. We never did that. Our house is small and urban but it has worked for us, and mornings like today I recall why.
As I walked home from dropping Phoebe off, I glanced down a side street to where Whit played little league for many years. Suddenly those years – of long games as the June sun set, of Whit's growing up into leadership positions and playing in the all-star game, of #14, of the mercy rule, felt so animate I almost couldn't breathe. I moved around a lot as a kid and swore to give my own children a more settled childhood. And wow have I done that: same house from birth through high school and beyond.
That means that there are ghosts and memories everywhere, and wherever I look I'm reminded of both the ache and the beauty of this life. My children as they were exist in shadows around the edges of who they are, and I'm grateful and wistful in equal measure. Oh, life. Can't have the joy without the loss, that I know. This is a bittersweet time, with graduations and endings coming fast and furious. I was reminded of one of my favorite quotes the other day by my teacher @daniwriter, "…beauty and grace are performed whether or not we will or sense them. The least we can do is try to be there." – Annie Dillard. In my deepest core I know I was there. And I am thankful for that.