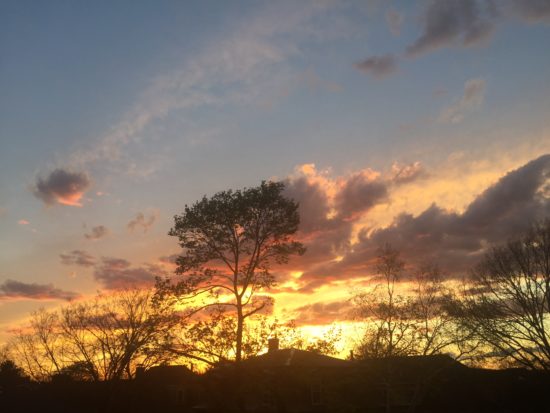 Last night's sunset
Four separate times on this blog I've shared my Alphabet of Right Now (2009, 2011, 2013, 2015). The time felt right for the fifth installment!
Part of the inspiration for this was the general every-other-year cadence I've been settling into with my alphabets, but it was also because of Amy Krouse Rosenthal, whose passing in March I noted with sorrow.  Her beautiful book, Encyclopedia of an Ordinary Life
, has been on my mind since hearing of her tragic death.  This feels like an exercise she might do, or at least one she would celebrate.  Without further preamble, here is my Alphabet of Right Now.
All-Boys – I'm really excited for Whit to be going to an all-boys school in the fall.  Random segue, but if you don't know the work of Michael Thompson, I highly recommend it.  Just this weekend I read his interview about How to Invest in Boys and found it, like I found all of his work, resonant, wise, and powerful.
Bittersweet – The definition of right now. I am so, so proud of Grace and of Whit, but I also feel overcome with sorrow that this particular season of life is ending.  Both. At once. In every single minute.
Coffee – This is not a new "c," but it's an ever-more-important part of my days.  Years ago Matt and I bought a coffeemaker you could pre-set the night before, and every single morning, without fail, I'm delighted by the fresh coffee waiting for me.  It's a highlight of my day.
Daylight – The days are so long now, and it's light when we wake up and light past dinner. I know I'm not alone in loving the light. In recent years I've come to love the darkness, too, but there's certainly a surge of something in this season, when everything feels light and alive in the world.
Early – I've been waking up really, really early. Earlier than usual. Sometimes I run, but sometimes I feel exhausted and I don't. I wish I was getting more sleep, but I admit I like the quiet pre-dawn time to myself, too.
Friends – As always, my dear friends shape my life and provide structure, support, and laughter to and in every day.  Particularly now, as I look ahead to a different season of life, I am grateful for the friends whose nearness, literal or metaphorical, buoys me.
Graduation – Both Grace and Whit will celebrate graduations this spring, from 6th and 8th grade (and eah from one of our school's distinct campuses) respectively. I know they'll be particularly charged because both children are leaving their current school.  The end of the school year always carries with it a swirl of emotions for me, and that's more heightened than ever this year.
Hockey – Whit's team won their division for the first time in our 5 years doing town hockey (and in a rematch of their only other finals outing, against the same team, in the same way). Then they lost the divisional playoff in heartbreaking fashion. As often happens, I found myself grateful for all the ways that team sports educate our children, for all the lessons on and off of the ice.
Italy – Grace, Whit and I had the most wonderful time in March in Rome.  For a week we were just the three of us, walking around, exploring, playing cards, eating pizza, on the verge of returning home and making big decisions and embarking on sweeping changes.  Our visit was sheer magic and I won't ever forget it.
Jigsaw puzzles – I love puzzles, and do them often.
Kombucha – I am way into Health-Ade Kombucha, especially the Pink Lady Apple flavor. Highly recommend.
Lamott – I've always loved Anne, as do many, and her most recent book, Hallelujah Anyway
, runs through my head on a daily basis.
Mysteries – I am deep in a phase of reading legal thrillers.  The whole Alex Cooper series by Linda Fairstein (which I wrote about for Great New Books), David Baldacci, John Grisham, Michael Connelley.  These aren't all I'm reading (see "L") but I am definitely enjoying plot-driven fiction right now.
No – Saying no is not new for me, but I'm saying no to basically everything that doesn't revolve around family or work right now.
Open – I've written before about being porous, and I've never in my life felt more that way than right now. Everything – beautiful and brutal, glorious and gruesome, heartbreaking and happy – pierces me.
Poetry – I've been turning to Mary Oliver, Wendell Berry, Adrienne Rich, and other familiar voices as I grapple with a time of earthquake-style change.  There's no question, as I've said before, that poetry is my lingua franca, the language my soul speaks.
Quotes – Are a lifelong preoccupation of mine. I cherish the small stack of quote books that I've been keeping since 1985.  I share some of my favorites here on Thursdays (and the archive is here).
Reunions – I am staring down my 25th reunion in a couple of weeks.  How is this possible?  Yet another experience of time's ability to be both inexorable freight train and dizzying, telescopic roller coaster.
Summer – None of us can wait, for more unstructured time, for long weekend days together, for sitting on the porch with my parents, for tennis and swimming and sleeping in.  My favorite time of the year.
Teeth – Grace is about to get her braces off.  I'm looking forward to seeing her teeth again, though I know she'll instantly look like the young woman she already is. Yet another end.
Uncertainty – Don't like it, never have, never will. Unfortunately I feel afloat in a sea of uncertainty right now.
Veterinarian – What Grace wants to be when she grows up.
Waiting for My Real Life to Begin – It was Gloria, in March, who put this song back in my head, and now I can't stop hearing it.  It feels particularly, utterly right for right now, a season of endings and beginnings where I need to remember all the time that this is just a moment in my life, and to see through the clouds of emotion that cloud my vision. I've written about this particular song before, but it remains central and seminal: just be here now.  It doesn't escape me that it's Grace's real life that's, in many ways, about to begin.
X – Impossible.
Years – Flying by. "There are years that ask questions and years that answer." – Zora Neale Hurston.
Zigzag – The way I experience life.  My experience of time is rarely linear: it spirals and returns again and again to memories that did may not have seemed important as I lived them, then abruptly spikes forward, accelerating into the unknown before returning again.  I think often the switch-back roads in the Alps we drove when I was a child, my dark-haired father at the wheel, my sister next to me in the backseat.  I always got carsick on those drives, and sometimes, as I confront time, I feel that way still.