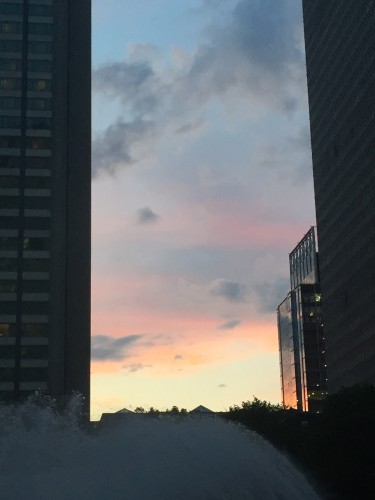 Sunset, Back Bay, June 23, 2016
The end of June may be my favorite time of year.  The children are out of school but have not yet gone to camp/grandparents.  The days are achingly long.  Usually it's warm but not blazing hot.  A couple of months of a slower pace ripple ahead of us, full of promise.  Even in the midst of these days that I love so much, I am aware of their almost-over-ness.  In the middle of summer's highest fever pitch, I can sense a kernel of fall, an unavoidable awareness of what we're turning towards.  I love these days the most of all, but they're definitely threaded with loss.
I can find a farewell in anything, can't I?
Yes.  I can.  This too shall pass.
Everything passes. 
This is the source of the seam of sorrow that runs through my entire life, but it's also at the root of any resilience I have.  Both.  At the same time.
When Grace was a colicky infant and I was not sleeping and I was more depressed than any time before or since, it was the feeling that this was never going to end that terrified me the most. Of course it did.  It passed.  As did other difficult times in my life, personal, professional, medical, difficulties belonging to me or to those close to me.
Everything passes.
Of course this is true of the joys, too.  And my deep awareness of time's ineluctable fleetingness is the dark hole around which my whole life circles, I know that now.  In the most joyful moments I wish desperately that things would not pass, and yet they always do.
Even in the moments I love most, there are unavoidable reminders of the way things pass.  These haunt me and bring me to tears.  I think of Frost's line that "nothing gold can stay," but then my mind also pinwheels to Lao Tzu's, about how "muddy water let stand will clear."
It strikes me that one of the tasks of our lives is to accept the drumbeat passage of time.  I originally wrote that we have to lean into it, but that, I suspect, will be impossible for me.  All the days of my life I expect to feel this faint shadow of loss, this specter of all that's over even as I love the moment I'm in.  That's just who I am.  That balloon floats above me, sometimes occluding the sun.  But I also remember that it's precisely this inevitable passage that makes the difficult stuff pass, too, and that this too shall pass is a comment mostly rendered in hard times.  It's relevant there, too.
The mud will clear.  The gold will dim.  It is comforting and terrifying, this truth, both.