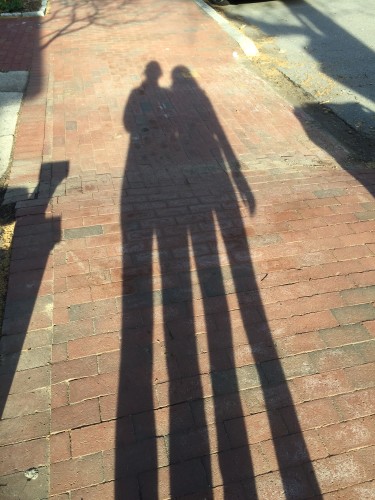 I am in between.
Everything right now feels tentative, uncertain, transitional.  It's not fully spring yet, but we're basically out of winter.  I'm a full time professional but I am also a writer.  My children are tweens and teens, and their departure from my daily life looms on the horizon, but they are still here and they still need me (they need me even as they separate, and yes, sometimes it hurts a lot).  Everything feels like it's in flux, though even as I write that I realize it almost always feels that way.
The one constant is change, no?  Like all cliches, that one has roots in deep truth.
I've never been fond of change.  And transition and the in-between is a place of discomfort for me. I've written before about my attraction to liminal worlds – the borders between light and dark, sea and land, day and night, child and adult.  Is it inconsistent for me to like those edges, and to acknowledge, for example, that it is dark that gives light its meaning, but to dislike change?  I don't know.  Perhaps both of those things can be true.  Many years ago I was talking to someone who was talking about how she knew she'd be happy when X or Y was true.  Even then – I was in my early 20s – I recognized the fallacy of this way of thinking, and swore never to adopt it. Postponing living until some X or Y are achieved is a recipe or unhappiness and torment. I knew that then, and I know that now.
One thing I'm certain about is that the in-between is where life is lived. There is no arrival.  There is only getting there. It's in the whitewater after a wave crashes that we see pieces of mica glittering. The tide is always going in and out. We are always in between, and so I wonder why some times feel more that way than others. I don't have an answer for that. Right now is such a time for me. Learning to live with that truth, the fundamental instability of this human experience, is one of our central tasks.  That I know.
I know all that, and I still find it difficult.