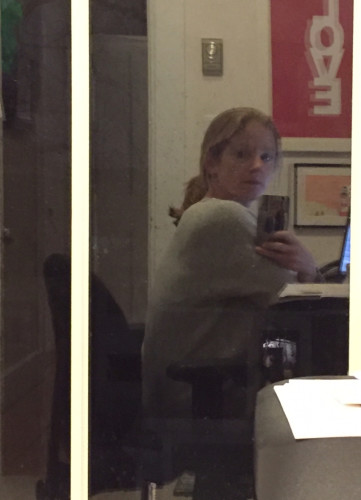 It has been a very difficult few weeks in my world.  Mostly work-related, but I feel worn down and stretched thin and generally as though I am about to fall apart.  I read my friend Amanda's piece, Love, Doubt, and Guilt Dance on the Head of a Pin at exactly the right moment.  Last Wednesday night, to be specific.  I've been dropping balls.  I've been snappy.  I haven't been sleeping.  I haven't been writing.  I feel pretty terrible all around.  I read her piece, particularly these lines:
It's inevitable that we spend moments pulling ourselves taut; it's how we grow. Stretching doesn't make us weaker or put us at risk of breaking, it makes us stronger. We lean into work, surrender ourselves to intimacy, devote time to our kids, these are the ways that we nurture the different parts of who we are and the people we love. It isn't easy and I don't think any of it comes without debt or compromise, but each instance of enduring the tautness and learning from it helps us understand the things that we want to hold on to and the ways that we can contribute.
Oh, God, I read this paragraph and started to sob, alone in my office with the rain pelting against the windows and the rapidly-darkening street outside.  Is this tautness, this feeling of holding my very life together with held breath and wobbling scotch tape, helping me grow?  I sure hope so. One thing I don't feel a smidgen of right now – not even a little bit – is ease.  Not at all.  I feel tired, and wired, and anxious, and sad, and overwhelmed.
I loathe complaining (just ask my children: there are a few surefire ways to set me off and one is complaining). The truth of my feeling not-at-all-good is at war inside my head with my own awareness of my tremendous good fortune.  How can I be whining, when so much is so good?  How is it possible that I can admire the beauty around me – and I do – and still feel like this?  I don't have answers for that, though I can't stop thinking of what Leslie Jamison writes on the back of Marilynne Robinson's exquisite book of essays, The Givenness of Things
:
…Robinson's determination to shed light on … complexities – the solitude that endures inside intimacy, the sorrow that persists beside joy – marks her as one of those rare writers genuinely committed to contradiction as an abiding state of consciousness.
Contradiction as an abiding state of consciousness.  Maybe that's what this is.  The darkness and light that mark my life are shifting like tectonic plates, creating small earthquakes inside of me.  They are both still there.  Even on days – weeks, months – when the darkness feels all-consuming, when I feel brittle and exhausted and spent, I have to remember that the good exists, flickering like a pilot light.  I need to trust it will return.  And I do.