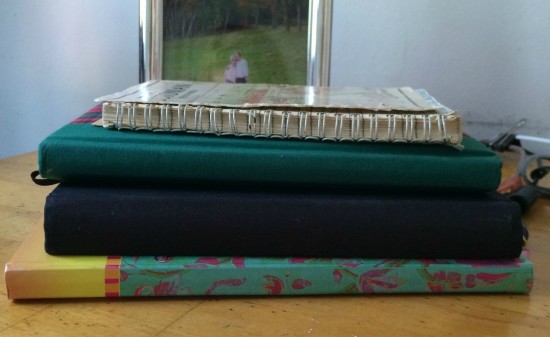 I've been a quote collector since May 23, 1985 (I was 10).  Interestingly, May 23 is Matt's birthday.  A coincidence that I began my very first quote book (the one on top) on that day, years and years before I knew my future husband?  Perhaps, perhaps not.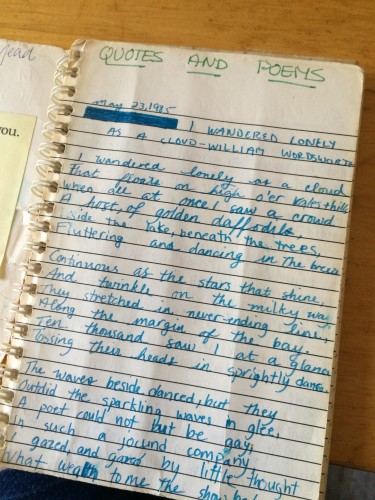 I opened Cheryl Strayed's new book, Brave Enough
, and was in tears by page four.  Infinite thanks to the peerless Liz Egan for sending me an advance copy (have you read Liz's gorgeous first novel, A Window Opens
?  YOU MUST). In the introduction to Brave Enough, Strayed mentions that her own passionate quote habit began with a line from Madeleine L'Engle's A Ring of Endless Light (a quote that I assure you lives in that top book): "Maybe you have to know darkness before you can appreciate the light."  She then goes on to refer to a long first-time labor and Ram Dass's seminal exhortation to be here now, a phrase I've often described as the tattoo I would get if I ever got a tattoo.
By the time the brief introduction was over, I knew I was in the company of my people.  I mean, I guess I knew that already, and part of Cheryl Strayed's immense power is her ability to resonate like that with so, so many readers.  But still.  I loved this book.  She says that "quotes, at their core, almost always shout Yes!" and asserts that Brave Enough "aims to be a book of yes."
And oh, is it.  Spoiler alert if you're on my holiday gift-giving list: this book is getting ordered in bulk and going under a lot of trees.  It's inspiring and reassuring and comforting and lovely.  I laughed and I cried reading the short, powerful quotes on Brave Enough's pages.  I wish it was twice as long, but of course the fact that Strayed has culled her extensive repertoire of quotable writing to these few gems is part of what makes it glitter so fiercely.
It is hard to pick favorites, but here are some of the short passages that spoke most directly to me.  I hope you'll buy and read Brave Enough, a book which reminds us of the power of words.  I can't recommend it highly enough.
****
When you recognize that you will thrive not in spite of your losses and sorrow, but because of them, that you would not have chosen the things that happened in your life, but you are grateful for them, that you will hold the empty bowls eternally in your hands, but you also have the capacity to fill them?  The word for that is healing.
Acceptance has everything to do with simplicity, with witting in the ordinary place, with bearing witness to the plain facts of our lives, with not just starting at the essential, but ending up there.  Acceptance speaks in the gentlest voice.  It commands only that we acknowledge what's true.
Trust that all you've learned was worth learning, no matter what answer you have or do not have about what practical use it is in your life.  Let whatever mysterious starlight that guided you this far guide you onward into the crazy beauty that awaits.