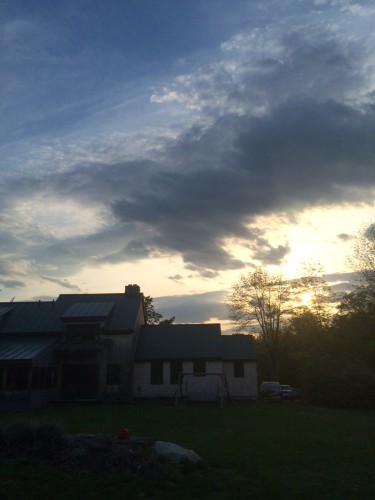 A traditional weekend in numbers:
1 – number of full-blown housing structures erected and underway being built
14 – number of children in the (childrens') Olde Tyme photograph (theme: Steampunk/Pirates/Civil War soldiers)
10 – number of adults in the (adult) Olde Tyme photograph (theme: Sister Wives/trappers/Puritans)
10 – number of children who started the night in tents Sunday night
9 – number of children who woke up in tents on Monday morning
1 – the times in my life I've gone to a hardware store and asked for a roll of roof felt, earth worms (night nightcrawlers), and a pound each of number 10 and 12 nails
1 – number of bottles of tequila killed
2 – number of birthday cakes consumed (large sheet cakes, one vanilla, one chocolate)
3 – number of people celebrating birthdays
8 (ish) – number of times I heard songs by Little Feet and Jack Johnson and the Grateful Dead and Lyle Lovett
2 – number of my goddaughters who were present (of a total of 2)
100s – number of photographs taken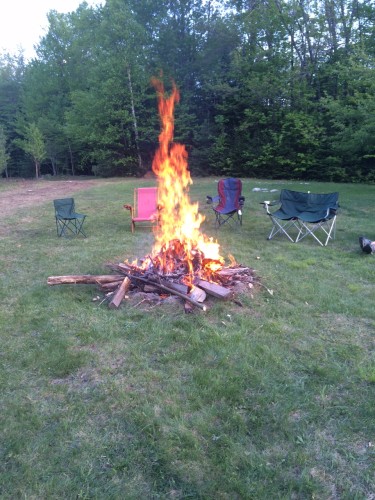 It's impossible to quantify or even fully capture in words the love I have for the people I spent the weekend with.  It's a tradition I love fiercely, this Memorial Day together in the woods of New Hampshire, swatting away blackflies and making sticky smores and dressing up in costumes for an Olde Tyme photograph.  I hope it never ends, even as I watch our children growing taller and moving towards the young adult phase of their lives.  I'm grateful to have known these women before these now-lanky adolescents were even born, and I fiercely hope I know them until long after they've grown into full adulthood.
I've described the way I feel about them before as a complicated equation of gratitude, and that's still true.  They've taught me more things than I can possibly describe, but one of them is to trust that true friendship can morph and change shape as we grow while still remaining sturdy, solid, and there.
As we drove up to this house that our friends have so immensely generously shared with us more times than I can count, I kept thinking of Wallace Stegner's lovely lines from the beginning of Crossing to Safety (which I read one, sitting in a bedroom in this very house, and found myself unable to keep reading because I was crying).
There it was, there it is, the place where during the best time of our lives friendship had its home and happiness its headquarters.
Friendship's home and happiness' headquarters.  Yes.  What outrageous good fortune that I was able to be there last weekend.  Thank you, thank you, thank you.  A million times over.