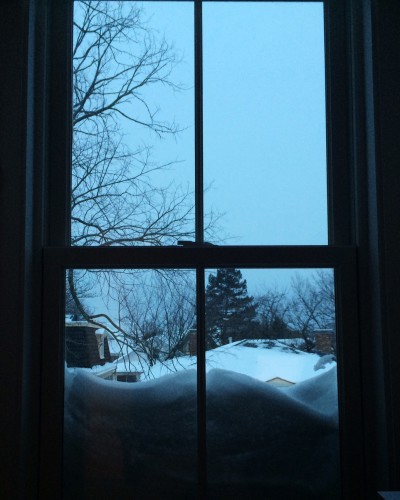 blue post-blizzard morning
This month of the Here Year has been particularly thought-provoking for me.  Aidan chose vulnerability which I think is a rich, complicated, and fascinating topic.  A couple of weeks ago, there was a widely-circulated Modern Love essay called To Fall In Love With Anyone, Do This.  I was particularly struck by a piece I read in the article's wake, which listed the specific questions the author refers to, and asserts that "mutual vulnerability fosters closeness."
Aidan and I decided it would be fun to together answer some of the 36 questions.  In the name of vulnerability and in the name of our project, we each agreed to share our responses to five of the questions.  I'd love to hear your thoughts on the basic premise that being vulnerable to each other is the (only?) way to build true intimacy and, eventually, love.
8. Name three things you and your partner appear to have in common.
We both have parents who are still married to each other.  We are both from New England.  We both lived in London for a formative stretch during our childhood or young adult years.  Aside: I'm curious about the "appear" in the question.  These are all facts that we definitely have in common!
14. Is there something that you've dreamed of doing for a long time? Why haven't you done it?
I have long dreamed of writing a book.  I still dream of this, though, candidly, that dream is changing.  I haven't done it because I haven't yet convinced a publisher to take a chance on me!!
16. What do you value most in a friendship?
The knowledge that a friend will be with me, no matter what.  That they'll tolerate me and love me in spite of myself.  That they'll show up and listen and be there, whatever comes. Abide with me, as always, plays in my mind.
30. When did you last cry in front of another person? By yourself?
I last cried by myself last week, out of fear and frustration and the unknown.  I cry in front of my children all the time.  I last cried in front of a friend in December when I realized I had behaved thoughtlessly and in a hurtful way.  I drove over to her house, showed up, and just started bawling.  It was most definitely the Ugly Cry.  I think she heard me that I was sorry.
34. Your house, containing everything you own, catches fire. After saving your loved ones and pets, you have time to safely make a final dash to save any one item. What would it be? Why?
One of my photo albums from before digital photography (I still make old-school photo albums but the photos are also saved digitally).  Or else one of my four quote books that I've been keeping since 1985.
I'd love to hear your responses to any or all of these questions.  Furthermore, do you agree that mutual vulnerability is what love and closeness are made of?