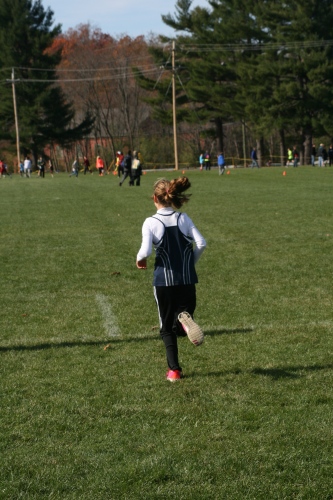 warming up
On Saturday, Grace ran in the Massachusetts middle school invitational championships.  It was a beautiful, bluebird day, the cloudless sky arcing, crystalline blue, overhead.  As we drove out to the race, she fretted.  "I just want it to be over," she said.  "I know," I told her.  "This is the worst part."
"Well, no," she corrected me.  "The worst part is standing on the starting line waiting for the gun."  I nodded.
We found her coach and two teammates who were running in their respective age-group races.  Not for the first time, I thought about how dissonant it is that running, the most solitary of sports, can require dealing with a huge crowd when you're racing.  Grace's age group (5th and 6th grade girls) numbered 193.  As her start time grew nearer her face grew tighter, her demeanor more anxious.  Her coach and I both urged her to go take some short jogs and she did.
Matt, Whit and I all stood on the starting line to hold her spot as she jogged somewhat listlessly around.  She'd just come back, Friday afternoon, from a four-day, three-night field trip in Vermont with her class.  It is a wonderful trip renowned most of all for how exhausted it leaves the kids.  Every single one of them apparently falls asleep on the bus home.  She had slept a solid 12 hours on Friday night but still, I could tell, she wasn't dealing with a full deck.  She had also missed practice all week, as well as two races, which she was aware of.
Matt gave Grace a hug and a kiss and took off with the camera to find a spot on the course.  I stood behind her and wrapped my arms around her shoulders.  She murmured that she felt like she was going to throw up and asked me why she did this at all.  She was trembling with nerves.  I leaned my cheek in against hers and just hugged her tighter.  "Are you cold?" I asked.  She had peeled off her warmup pants and was wearing shorts.  She shook her head.
An official with a megaphone walked across the course and instructed all parents and coaches to leave the starting line area.  It was time for our children to be on their own.  Grace turned to me, a stricken look on her face, and I gave her one more hug and our secret sign for "I love you" before falling back several feet.  I stood behind her, blinking back tears, watching.  I could see her wings fluttering under her shirt as her narrow shoulders shivered, some combination of fear and cold.  She glanced over her shoulder and mouthed to me, "This is the worst part."  I laughed and wiped at my wet cheeks.  Once again, the metaphors write themselves.  I let go and I stood back.
And the gun went off.
I stood still, quickly losing her in the enormous, pounding throng.  Whit and I watched until we saw her white sleeves in the front pack, heading up the first hill (or "incline," as they call it in cross-country).  And then we headed to the finish line, because I didn't think I could bear watching her as she went.  I could feel my heart beat all the way up and down my arms and blinked fast to keep the tears from spilling down my cheeks.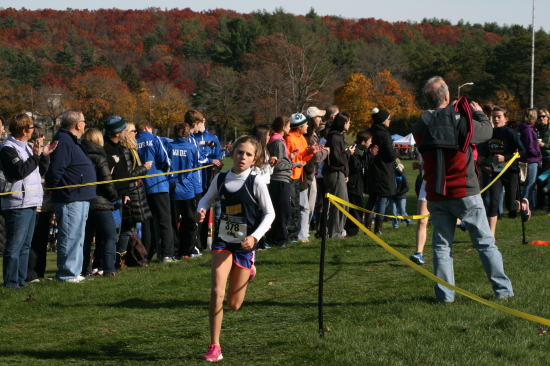 As I waited for her to come back into sight, I couldn't help thinking, she's in the woods.
I stood there, squinting, trying to see the first girls as they emerged into the home stretch.  Finally I saw someone coming.  It was not Grace.  A few more girls thundered by.  They were all pretty close together.  I saw her white long-sleeve shirt and began hollering.  She looked good but, truthfully, she looked tired.  I saw someone fly past her and almost laughed out loud at her startled expression on her face. She glared at the finish line and sprinted towards it.
She finished seventh.
We took a team picture, she began to catch her breath, and then we drove home.  Once we were in the car she admitted that she was disappointed and she cried a bit.  The litany of regrets began.  She had beaten the third place finisher in a race just ten days ago. She wondered what would have happened if she didn't go to on the field trip.  She had had a cramp while running. If she hadn't wondered what if she wouldn't be my daughter, I realized as I drove, staring forward, my heart aching.
Still: seventh.  In the state.  I am immensely proud of her.  I think she's proud of herself, though I think she wanted to do better.  Had circumstance been different, maybe she would have.  Who knows.  She has already told me she has a goal for next year, which is to do better than seventh.
The moment I'll remember from the day isn't the panting child with a medal around her neck or the glimpse of her coming out of the woods, heading towards the finish.  What I'll most vividly recall is "Parents, please back away from your children."  And the look on her face when I did.  And then watching her run away from me.