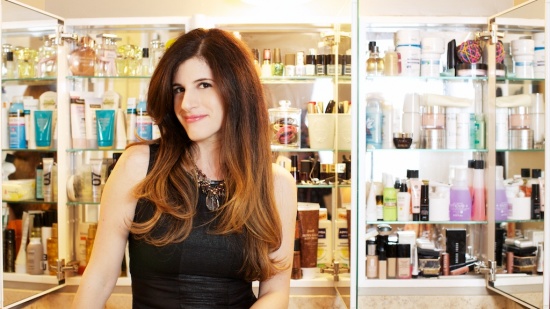 I can't remember exactly how I met Alyssa online, but I thin kit was through the phenomenon of the Binders Full of Women Writers this past summer.  Since then I've been entirely smitten by her blog, The Sparkly Life, which covers an eclectic mix of style, fashion, beauty, links, and parenting.  Her weekly link roundups are not to be missed.  I was delighted when Alyssa agreed to participate in my How She Does It series.
Alyssa is the Beauty Editor at Brides Magazine.  I highly recommend her Instagram, Twitter, and Pinterest feeds too!  She's funny, smart, and has great taste.  What's better than that?  Alyssa's children are younger than mine, so I live vicariously through her in some ways, for example when she posted about her son's adorable first birthday party or her daughter's toddler-version-of-fashion-blogger outfit.
Without further ado, I'm honored and thrilled to introduce Alyssa.  I hope you love her wisdom and humor as much as I do!
Tell me about the first hour of your day?  (I often describe mine as being "fired out of a cannon")
My day starts when my daughter wakes up, which unfortunately, is almost always between 5:30 and 6 a.m. (I haven't set an alarm in years.) I go downstairs, make her breakfast, pack her lunch, make a fruit-greens-and-almond-milk smoothie for myself, and then sit down at my computer for a bit until it's time to start getting ready for work. (My son doesn't wake up until 8 a.m., which is basically a dream.)
Do you have a work uniform that you rely on for getting dressed?  What is it?
99 percent of the time I'm in a dress or jeans. I almost never wear a top and a skirt (or a different type of pant) because that requires a lot of thought about what coordinates with what and my brain just does not want to be a stylist at 7 a.m.! I'll do a pair of dark skinny jeans, boots, and a sweater or top/blazer if it's a more casual day; a dress if it's a day where I have a lot of meetings or events. And then I'll almost always throw on a big statement necklace. It's the quickest, easiest way to take even the most basic outfit to the next level.
How do you and your spouse resolve conflicts about scheduling?  
My work life has a bit more flexibility, so I'm usually the one who ends up changing plans (or staying home from work) if there's a scheduling snafu. It's one of the few downsides of working part-time.
Do you second-guess yourself?  What do you do when that happens?
Not a ton, actually. Occasionally, sure, but my bigger problem is indecisiveness. Once I've made a decision though, I'll usually just go with it. I try not too worry or second-guess too much—I'd never get anything done!
What time do you go to bed?  
Around 11:30pm. I should go to bed earlier, but the evening is my primary work-on-the-blog time (and my main unwinding time!), so going to sleep any earlier is tough.
Do you exercise?  If so, when?
I do—although I wish I was able to go more. I go to Pilates twice a week (one group class, one private). I try to fit in one other thing each week (typically Spin, barre, or yoga), but if I'm being honest, it rarely happens.
Do you cook dinner for your kids?  Do you have go-to dishes you can recommend?
Because we have a nanny during the day and I get home after they eat, I am not usually the one cooking dinner for my kids. I do make their dinner on the weekends, but my kids are both going through a picky stage, so I wouldn't really call what I do for their dinner "cooking." My daughter will usually eat a hot dog (no bun) or chicken fingers, rice or soup, and green beans (one of the few veggies she'll eat!). My son will eat any of those things, too, but he's a little more adventurous—his favorites are meatballs, broccoli, and feta cheese.
Do you have any sense of how your children feel about your working?
Recently my four-year-old daughter said to me, "I wish work wasn't a thing. I always want you close to me." And my son has recently started screaming and crying every time I leave in the morning. That's tough. I know they don't like me going to work, but it's important for them to see me having a career, doing things that I love, being happy. And I know that I'm happier when I'm working—part time. I am very, very lucky that I am able to work part-time, so that I really have the best of both worlds.
What is the single piece of advice you would give another working mother?
Just do your best. That's all you can do. And you're doing great. There will always be someone on Instagram who looks like she's "doing it all" better than you. But your kids think you're doing a damn fine job—and they wouldn't trade you for that Instagram mom for anything in the world.
And, inspired by Vanity Fair, a few quick glimpses into your life:
Favorite Artist?
Marilyn Minter. I dream of having one of her pieces on my living room wall.
Favorite jeans?
Rag & Bone Kensington Skinnies
Shampoo you use?
Whatever they happen to be using at the blowout bar! 😉
Favorite book?
A Prayer for Owen Meany by John Irving and She's Come Undone by Wally Lamb are two of my all-time favorites.
Favorite quote?
Right now I'm very into "Comparison is the thief of joy." In our Instagram/Pinterest/Facebook world, it's very easy to look at someone else's life (or body or job opportunity or whatever) and think how much better your life would be if that thing was yours. But it's not and the constant comparison is just going to make you upset. I try my hardest to remember this quote whenever I feel that comparison/jealousy rearing its head.
Favorite musician?
I'm a closet Katy Perry fan.
Favorite item (toy, clothing, or other) for your children?
I'm trying to think of something besides "the iPad," since surely I would look like a better mother if I mentioned some cool, educational, indie toy. But I just can't think of anything that they (and I) love as much. We're an iPad family. There, I said it.