We have lived in our house for a long time.  We moved in in the summer of 2001 with plans to stay here for a few years before moving on.  As it turns out, we are still here.  This fact has several ramifications on our daily life, almost all good.  One in particular is on my mind lately.  This house is full to the rafters with memories.  Every room holds ghosts.  This is the house in which we celebrated our first anniversary.  It is the house in which I sat two days later and watched the television coverage of 9/11, my new husband in LA, having flown out the night before instead of that morning .  It's the house to which we brought home both of our babies from the hospital.  These walls have witnessed joy and sorrow, laughter and tears, first birthday parties and baby showers and engagement celebrations and many tantrums and even more glasses of wine.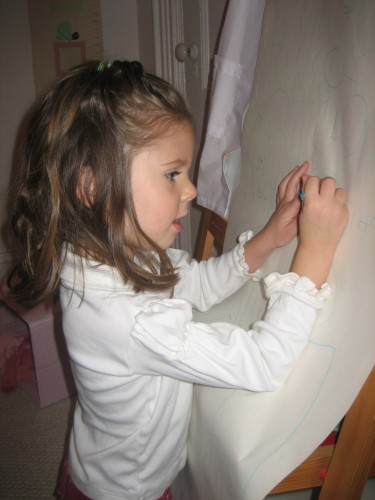 I thought of this the other day when I stood behind Grace in her room as she rubbed cream into her face before bed.  I could not see myself over her head in the mirror because she is almost as tall as I am now.  Suddenly the image of her 4 year old self, standing in the same spot in the room, concentrating hard to write her name, spindly letters sprawling across the paper on the easel, almost knocked me over.  The Margaret Atwood poem that was the preface to my college thesis, Spelling, rose to my mind:
How do you learn to spell?
Blood, sky & the sun,
your own name first,
your first naming, your first name,
your first word.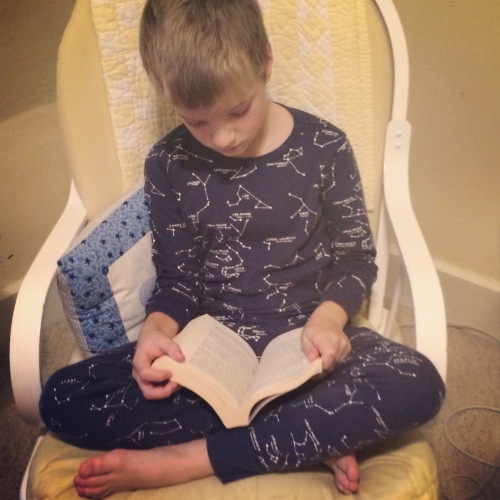 The next morning I walked into Whit's room to find him sitting cross-legged in the yellow-upholstered glider that stands in the corner of his room, reading a chapter book.  I spent so many hours in that glider, rocking him, nursing him, watching the moon out the window of his room.  And here he sat, buzz-cut, almost 10, reading to himself as he rocked quietly back and forth.
The past is animate in every corner of this house.  I sat in the kitchen rocking chair with a week-old Grace on my lap, looking mutely at my doula and nodding silently as she encouraged me to seek help for my already-overwhelming post-partum depression.  I labored by myself with Whit in the darkness of night in our bedroom, pacing back and forth, Ina May's book open at the foot of our bed.  I have taken more pictures than I can count of Grace and Whit with their grandparents on the yellow couch in our living room.  We have celebrated Thanksgivings, Christmases, and hundreds of family Sunday dinners at our oval mahogany dining table.
I've written often about how time confounds me, about the ways that the past rises up through the present, augmenting and haunting it at the same time.  This is something I experience on a daily basis in my own home. The past and the present are layered together in a way that enriches my everyday life and tints it with sorrow at the same time.  When you're this aware of the past, it seems to me, there's an inevitable thread of loss and longing that is sewn through your days.  While I don't think this is true merely because I've lived in my house a long time, I do think I confront specific and highly-textured reminders of what was more frequently because of that.
Even now, as I write this, I'm sitting  in the room where I paced for so many hours, a colicky Grace in the baby Bjorn, hoping she would finally fall asleep.  I am looking out the window at the tree whose branches I watch cartwheel through the seasons every year.  Down the hall is the bathroom in whose tub a baby Whit giggled, his plump body in a starfish-patterned bath seat.  When I walk downstairs I will wade through memories from over 13 years.  And the ghosts who populate those memories make me simultaneously sad, grateful, and intensely aware of my own life.