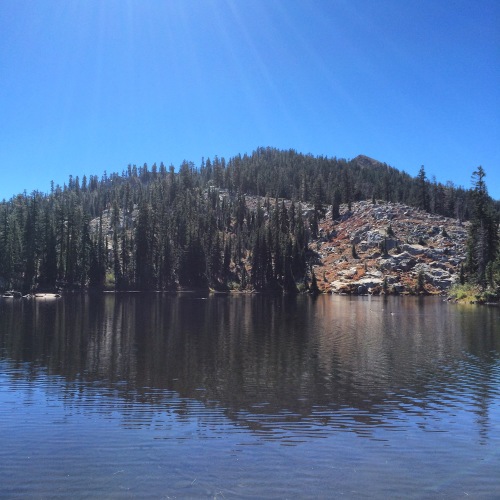 The mountain lake that we hiked to on Saturday morning
This month, Aidan has chosen Friendship as the topic of our Here Year.  The topic is near to my heart and the timing is perfect.  I just returned from my annual reunion with my dearest friends from college.  It was a marvelous, sunny weekend of laughter (a lot) and tears (a few) that reminded me yet again why these women are so essential to me.
I've written a lot about friendship, and I cherish my female friends.  As I get older I am more and more convinced of the importance of female friendships to our lives.  The women who live nearest to my heart come from a variety of places and times in my life, but this group of college friends are the single largest and most stable locus of identification for me.  They are my anchor and the first people I call with news, good or bad.  They are the women who hold my stories.  They are some of the few people in the world who know both who I am now and who I was then.  They were my bridesmaids and are the godmothers of my children, and we have attended graduations, weddings, and funerals together.
These are the friends whose lives have now been beating alongside mine for more than half my life.  They are the friends who know the specific part of Middlemarch that I missed because I was skimming a little too aggressively, what the trapezal is, all the lines to Jennifer Lopez's performance in The Wedding Planner, the best roast chicken recipe, and how to work a 1970s-era one-piece ski suit.  The memories run incredibly deep.  We know the titles of each others' theses and what we called our grandparents and why a DTR is  important and how we celebrated our 21st birthdays.
For me, this was the best reunion weekend yet.  All but one of us (those who were there) is now 40.  We are all mothers and wives.  We have a great deal in common, most of all the 4 years we spent on the same college campus in the mid 90s.  But our lives are also very different.  We run the gamut, professionally, personally, and geographically.  Somehow, as our flight from those years in New Jersey lengthens, and our paths diverge, we also feel closer than ever.  These women define where I came from and help me know where I am.  Something about this past weekend was simply magic.  Maybe as we hit our 40s we are settling into our skin.  Maybe it was the mountain air and spectacularly beautiful weather.  Maybe it was the triple cream brie and French Sancerre.  Probably it was a combination of all of these things.
I suspect part of it had to do with my – and, I think, everyone's – increasing ability to be here.  For many years I've known that attention is love, and this weekend was a reminder of how true that is.
Friendship is made of attention. 
We listened to each other and in turn we felt heard (I can only speak for myself, but my strong sense is this feeling was common in the group).  I'm always amazed by how swiftly we slip back into comfortable patterns and by how easy it is to be around each other, because so much of our history is known and doesn't need to be explained. .  This weekend was no different.  There is no way I can capture this strong, loving, dazzling group of women nor how fortunate and privileged I feel to be in their presence.  I simply love them.  That is all.  And I hope they always know that.
I wrote about this weekend, and these friends, in 2010, 2012, and 2013.