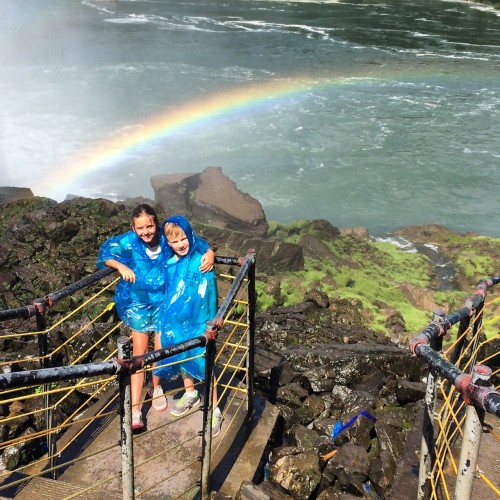 Last week, my dear friend Pam left a comment here in which she mentioned her realization that "in the noticing is the magic."
I haven't been able to stop thinking about that.  Pam's one powerful sentence startled me, and has suddenly made so much clear.  I write ad nauseum about all the magic I see in my regular life, about the beauty that I experience in the most mundane moments, about the glitter in the grout.
My children see the way the extraordinary shimmers inside the ordinary, and there's no question that it is because of them that I can now see it too.  The ways in which my children have taught me to see are myriad.  Some are literal, like toddler Whit crouching on the sidewalk to admire a dandelion pushing up between two bricks or eight year old Grace telling me point-blank that my life is full of magic.  Less directly, by stripping bare that brutal truth from which I spent so many years trying to distract myself – that time passes so swiftly it takes my breath away – Grace and Whit have taught me to slow down and to pay attention.
Our lives are full of holiness.  That much is true.  I can't stop seeing it.  But my revelation – thanks to Pam – is that it is the seeing that makes it so.
Last week, on our second day in Niagara Falls, we went on the Maid of the Mist.  Whit wanted to stand downstairs.  Grace wanted to stand upstairs.  I negotiated this particular impasse and spent half of the boat ride with each of them.  There was some petulance and pouting by Grace and some arguing by Whit and finally I told them to quit it.  After the boat docked we made our way up the wooden walkway underneath the falls, our sneakers soaking wet, the mist pounding us ("mist" seems like a euphemism for a drenching, heavy rain).  I had to walk in between the kids because they were mad at each other.  We didn't see much on our way up because we were focusing down, on the slippery trail and big puddles.  At the top we turned around. A rainbow.  All three of us gasped.
Magic.
That evening, Grace and Whit squabbled and I yelled at them and threatened to take away the post-dinner water park visit they'd so looked forward to.  They pulled it together, and we went to the water park, and then to watch fireworks over the Falls at 10:00.  It is telling that I can't remember what they fought about (though I do recall raising my voice and that uneasy, ugly feeling after doing so).  I can remember standing with a child on each side of me, head tipped up, watching the night sky explode with brightness over the breathtaking beauty of the nighttime Falls.
Glitter.
And then we went to bed.  I slept fitfully for the second night in a row because the hotel air conditioning alternated on and off all night long.  In the morning, I lay awake and watched Whit sleeping in the next bed, his monkey, Beloved, clutched under his chin.  Grace's tousled dark head was just visible on the other side of him.  I don't know that there's a sight I love more than my sleeping children.  And all together in a hotel room?  That's pretty much my favorite thing.  I didn't care that I was exhausted.  I just watched the shadows of Whit's eyelashes on his cheeks.
Beauty.
It isn't that I'm paying attention because my life is magic.
It's that my life is magic because I'm paying attention.
Thank you, Pam.  You've given me my new mantra.  In the noticing is the magic.