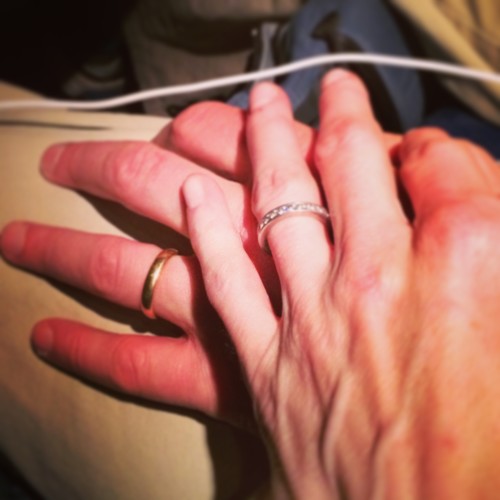 I have had marriage on my mind lately.  My friend Aidan has generously invited me to join her Here Year, and this month's theme is marriage.  I've been thinking about what I can do to be more here in my marriage, and well as considering what impact presence has on both my relationship with my husband and my family.
Marriage, and mine in particular, is a topic I don't often broach here.  I read somewhere (and I wish I could remember where, so as to attribute it) that a marriage is "the most private of geographies" and I agree entirely with that.  There is so, so much about the marriages of others that we don't see, an entire subterranean world, and I have learned not to make assumptions from the small part of the landscape that I can see above the surface.
Matt and I will celebrate our fourteenth anniversary in September.  Since we met, in January 1998, we have shared a broad swath of life, between the two of us and our immediate family: two graduate degrees, one house purchase, two pregnancies, two labors and deliveries, one heart transplant, one stem cell transplant, one kidney transplant, five jobs, two international trips with our children, and more tears, laughter, and mundane days than I can possibly remember or count.  It's that small stuff, the "grout between the tiles of life's big experiences," that makes a marriage.  It's that stuff that makes a life.
While I don't think we can ever understand the marriages of others, I do think there are certain observable behaviors, habits, and tendencies that people who seem (again: seem – but that's all I have to go on!) to be happily married demonstrate.  Some of these Matt and I have and do, others we could improve on.  So, here are my thoughts on the habits of the happily married:
Laughter – This is the biggest one by a mile as far as I can tell.  I love being around couples who make each other laugh and who can guffaw at things big and small.  This is correlated with an ability to keep life's inevitable bumps in perspective, though that deserves its own post.  I think it's as simple as everyday life is more fun when you can laugh, and people who share that have a very solid bond.  Matt and I can work on this one.
Perspective – If there's one thing I know at almost-forty it is that life is full of regrets and compromises.  Even those whose lives look exactly like they planned them find them to feel nothing like we expected.  Guaranteed.  Couples who can help each other remember this are doing something right and important.  I think Matt and I are doing okay on this one.
Affection – Without exception, as far as I can see, people who touch each other like each other.  These tiny moments – hugs hello and goodbye, pats on the back when walking by a chair, kisses at bedtime, a foot rub while watching a baseball game – add up to a stronger bond.  Period.  I've written at length about my own aversion to general smell/noise/touch/taste/sight stimulation, and Matt would like to have his feet rubbed 24/7, so we have a ways to go on this one.
Individuality – I guess there's a reason Khalil Gibran is so beloved.  That whole spaces in your togetherness thing is, as far as I'm concerned, absolutely apt.  The couples I admire most are the ones who are two individuals who are choosing, over and over again, to be together.  This requires that each person have something – or multiple things – that they love in the world, outside of themselves, each other, and their children.  The night before our wedding, I told Matt and I felt as though we were two people choosing to walk next to each other as long as our paths converged.  I'm still choosing that.  To me, that's romance.
I know these observations are general, and the real task is translating them into day to day choices, minute by minute actions, that add up to a strong and healthy marriage.  But maybe identifying the macro themes is useful too.  At least I hope it is.
What habits do you observe among those whose marriages you respect and esteem?  If you're married, do you recognize those same behaviors in your own marriage?