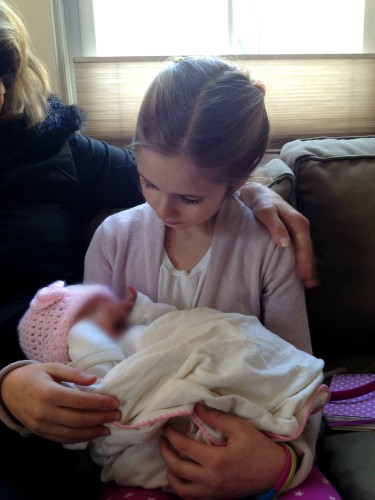 I grew up in the embrace of several extended families.  One of these was my godfamily.  And one of these godsisters, who lives nearby, had a baby this winter.  One February afternoon after school Grace, Whit and I stopped by.  I parked too far away so we walked several blocks in the cold, our shadows already growing long in the golden, quick-to-fall February light.  Impatient, Grace and Whit galloped away in front of me.
We tiptoed into the living room and took off our shoes.  My godmother handed the baby to me and I instinctively cradled her and looked down at her closed eyes, wrinkly skin, rosy, pouty lips.  She wore a pink knit cap, and my mind immediately pinwheeled to the cream cotton cap with curls of ribbon tied around the top that a nurse at the hospital had given Grace to wear home .
"May I hold her, Mummy?"  Out of the corner of my eye I could see Grace bouncing up and down on her toes next to me.  I remembered a Saturday walk a year ago during which I carried my friend's two year old most of the way.  That night Grace had fallen apart, weeping inconsolably that "she wanted to be my little girl."  Grace explained that she was sad about a time in her life that she couldn't get back, as well as a little jealous.  I worried, as I do so often, about the sensitivity my children have inherited from me.  Whit has this tendency too.  It is perilous having a mother who is more shadow than sun.
"Sure.  Sit down here on the couch." my godmother sat next to Grace, helped position her arms, and I slowly lowered baby C into Grace's lap.  I stood back and looked at them, Grace and the two-day-old baby of a woman I met when she was two days old.  I took pictures of both Grace and Whit holding the newest addition to our godfamily, and then, anxious not to overstay during what I know first-hand is a raw, precious time, we left.
That night, I uploaded the three pictures I'd taken of the afternoon.  I couldn't stop staring at the picture above.  Look at Grace's hands: they are enormous.  They engulf the baby; she is closer to the size of an adult now than to the baby I still sometimes think of her as.  I remember our pediatrician's words that adolescence's growth spurts often start with feet getting rapidly bigger.  Is this true of hands, too?  Has Grace stepped into the tunnel that will spirit her, faster than I can blink, to young womanhood?
When I look at her holding the brand-new member of our godfamily, I can't deny that the answer must be yes.