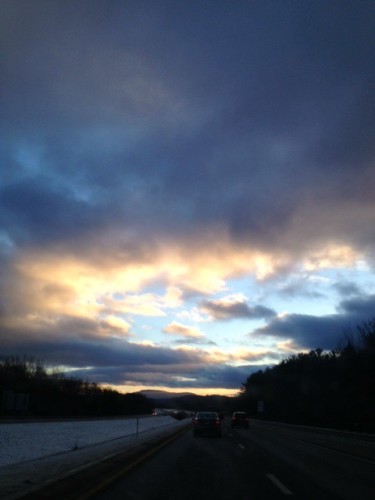 I don't make new year's resolutions.  I never have.  While I've chosen words the last two years (2011: trust, and 2012: light) I'm still waiting for a word to reveal itself for 2013.  It may not.  One afternoon in early December, while I was driving with the children, I told them about my words of the year for the last couple of years.  When Grace asked what my 2013 word was, I said I didn't know yet, explained that I waited for the word to come to me.  "What do you think I should choose?"  I glanced in the rearview.
"Maybe hope, smile, love, or peace?" Grace listed off the four words she'd recently featured in her room.  I nodded.
"How about nifty?" Whit asked.  Grace giggled, and so did I.
Those excellent ideas notwithstanding, nothing has risen to the surface yet.  Maybe a word will.  But here we go, forging ahead into another year.  What a privilege this is, this day, this blank slate, this new beginning.  I don't know yet what to say about this new year into which we sail.  But I do have some reflections on 2012, some things that I know now are absolutely true, some new and others things that I seem to need to keep re-learning over and over again.
I cannot change other people.  Much as I rail against this truth, much as I wish it was different, I simply can't.
I will never, ever get tired of Phillip Phillips' song Home.
It is almost never about me.  Words and actions that slight and hurt are almost always about something going on in the life and mind of the other person.
Sometimes it is about me, however. And my intuition about this is extremely accurate.  I have to learn to let go of wanting everyone to like me.  They won't.
Having blood taken on day 3 of a juice fast is not a good idea.
The sky still can, and regularly does, bring me to my knees and to tears.  One evening right after the Solstice, while running at dusk, I had to stop and watch the sky in its pink and gray majesty, convinced I could see all of the grand pageant of life animate in those clouds, lit from beneath by a light whose source we can't see but in which we must believe.
Crossing to Safety might be the most beautiful novel ever written.
My favorite time of day is early morning. Some of my happiest moments are running under a setting moon as day breaks.
The truest friends are those who are there beside you when things go poorly and when things go well.  Some fall off in each instance, not just when things are hard.  Neither of these are reasons for a true friend to abandon you.
Sincerely, honestly, I wish you the happiest of new years.  I can't express how grateful I am that you're here, reading.  I mean that.  May 2013 be calm and bright, full of joy, peace, and wonder.
What do you know now, as this new year dawns?