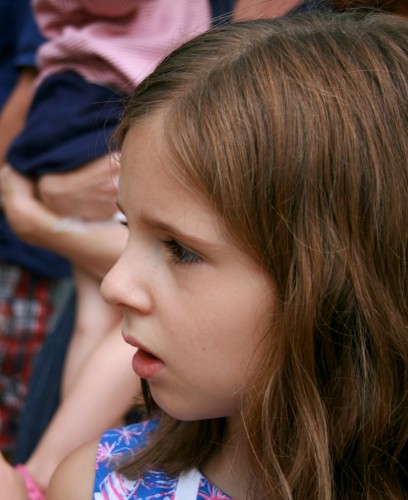 We spent several days last week at my parents' house by the ocean.  It was a wonderfully fluid kaleidoscope of activities and groups; we all wheeled through various permutations from all together to alone.  It was just a lovely few days.
About halfway through, Grace and I were walking alone and talking.  "We still have three days here," I told her.  "Isn't that great?"
"Oh, yes," she sighed and grabbed my hand.  I adore that both of my children still hold my hand when we walk down the street. We admired the range of hydrangea colors at the next house we passed.  And then Grace said, "You know, it does feel like we have been here a long time already."  I nodded.  "But also not long at all."
"I know what you mean."
"When you're in them, days take a long time.  But then when you look back they went really fast."  We walked for a few steps.  "Do you know what I mean, Mummy?"  She looked at me, and I stared back into my own brown eyes, blinking back tears.
"Yes, Grace.  I know exactly what you mean."