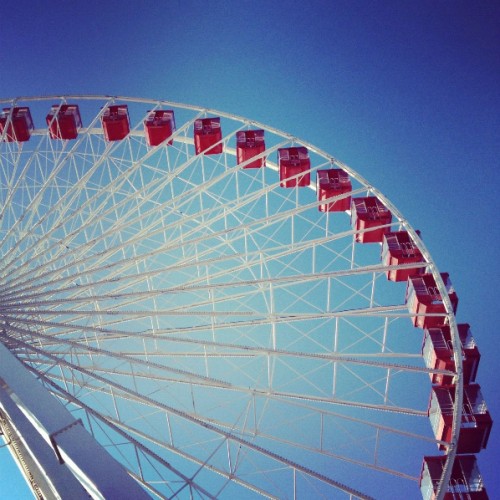 I am 37 years old.  I'm not going to pretend it is without angst, this early middle age of mine.  Two summer ago turning 35 made me very thoughtful and somewhat melancholy.  I got what felt like endless emails that summer protesting that 35 is not middle age.  But I disagree: I view middle age as a range: literally, the middle of life.  And there is no question in my mind that's where I am.  The ferris wheel that I write about over and over nears its apex, and the view is breathtaking.  I can feel in my stomach, however, that we're lurching close to the voyage down the other side.
I'm in good company, by the way: Carl Jung said that middle age begins at 35.  (he called it the beginning of the "afternoon of life," something I read for the first time in Dani Shapiro's gorgeous Devotion.) And life does have a different flavor these last few years.  The evidence that I am an adult continues to pile up: two children, a marriage, a graduate degree, a mortgage, a station wagon.  Oh, and the wrinkles.  I feel like a grown-up in the full sense of the word, which is both liberating and heavy.  Part of fully leaning into adulthood seems to be accepting all the things that will never be, and there is a deep sorrow in that though also a kind of sturdy settling, like an exhale.
But at the same time I feel a persistent disbelief that I'm actually an adult.  I still feel like I am 18.  I am still waiting for the real parents to come home and to take over with Grace and Whit.  It's not a secret that one of the things I struggle most with is time's passage; I wonder if my apparent willful ignoring of my own maturing is a way of refusing to acknowledge this reality.
I'm not sure.  It's just one of the ways that life continues to surprise me, I guess, this oscillating between feeling very old and very young, sometimes in a single moment.   The constant letting go of what I thought, over and over again, that is never enough.  Releasing my hold on what might have been in order to embrace what is.  What is, in all of its new-wrinkled, dark-circled, surprisingly-achy middle-aged glory.  Maybe that will be primary joy of this afternoon of life: acknowledging and appreciating this life, this 37 (almost 38) years, right here.
Click over to Momalom to read many beautiful posts on today's 5 for 5 topic, age.