This blogging world has brought me so many gifts.  One of the richest has been The Tribe, a group of creative women who have (foolishly, and I'm still waiting for them to realize their error) included me in their number.  One of these years I will be able to join the annual retreat on the coast of Oregon.  Elizabeth Grant Thomas is one of the Tribe, and if you don't know her luminous, thoughtful writing, you should.  She writes about many of the same themes that haunt my work (and my life): impermanence and what endures, relationships and family, the fallibility and brilliance of memory.
Last week Elizabeth shared 11 questions and her answers.  I loved reading her stories, about the adorable way her husband proposed, her favorite historical period, and what day in her life she'd go back and re-live.  Then she tagged me in the meme, and I so enjoyed reading her answers that I was excited about answering with my own.
This is how it works:
Post the rules
Answer 11 questions the tagger posted for you
Create 11 new questions to ask the people you tag
Tag 11 people
Let them know you've tagged them
So herewith, my answers to Elizabeth's wonderful questions, my own set of new questions, and the 11 people I would love to hear answer them!
1. What book has moved you the most in recent history?
I was tremendously moved by Stephanie Saldana's The Bread of Angels.
2. What's your favorite way to spend idle time?
Sitting in my bed, with my daughter next to me, reading (separately).
3. Share a silly photo of yourself.  What's the story?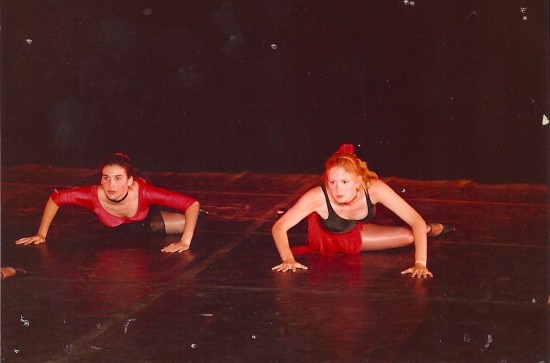 This was in high school, when my dear friend C and I were in the Dance Concert together.  We also ran cross-country together, and part of why I love this photograph so is that we are teaming up to run a 10K Mud Run in May together.  20 years and 5 children later, we're back to running in the woods side by side.  I can't wait.
4. What astrological sign are you?  Do you believe in astrology, or think it's a bunch of hooey?
I'm a Leo.  I oscillate between believing and thinking it's hooey.  Fun fact: my father and my husband are both twins and Geminis.  When I was growing up, I thought being a twin was a requirement of being a Gemini, since my father was both.
5.  What is the most memorable meal you've ever had?
Several dinners, cooked over a campfire, out in the African bush when Matt and I were on safari in the summer of 1998.  Somehow they conjured the most extraordinary meals out of nothing, and the setting sure helped.
6. Do you believe in fate, or that we're masters of our own destinies?
This is a tough one for me.  I'm really not sure.  I lean towards the former, because I often sense the hand of something large and ineffable at work, but I also believe adamantly in the power of hard work and good decisions to shape our lives.
7. What is one of your favorite memories from childhood?
Singing Circle Game with my sister and our "four family" siblings, the extended family we grew up with.  We wore white, we stood in line by height, and all eight of our parents watched us with tears in their eyes.  There are also many special memories from my summers at sleep-away camp.
8. If you know it, what is your Myers-Briggs type?  If you don't know it, would you characterize yourself as an extrovert or an introvert?
I am an INFJ.  100% F, 100% J, closer to the middle on the other two.  I am a big believer in the Myers-Briggs as a framework for understanding ourselves and others in our lives.
9. What is your favorite flower?
Peonies, hands down.  Ranunculus after that.
10. No one can ever believe that I've never seen The Princess Bride.  What movie have you never seen that everyone else seemingly has?
Silence of the Lambs.  I'm too scared.
11. What quote or motto best describes how you endeavor to live your life?
There is no such thing as a complete lack of order, only a design so vast it appears unrepetitive up close.  (Erdrich)
It may be that when we no longer know what to do, we have come to our real work. And when we no longer know which way to go, we have begun our real journey.  The mind that is not baffled is not employed.  The impeded stream is the one that sings. (Berry)
To miss the joy is to miss all.  (Stevenson)
Did you really think I could pick one?
And so, here are those I "tag":
Aidan of Ivy League Insecurities
Christa of Carry It Forward
Denise of Universal Grit
Pamela of Walking On My Hands
Lisa Bonchek Adams
Kathryn of Good Life Road
Hilary from A Year On
MK Countryman from My Suburban Life
Katie Gibson from cakes, teas, and dreams
Rebecca from June Carol Claire
Erin from Elements of Style
And these are my questions:
1. What is your favorite book?  Why?
2. What song brings you back most viscerally to a moment in your history?  Where does it take you?
3. Who is your favorite character in fiction?
4. What is your favorite food?  What about foods you abhor?
5. Are you a morning or a night person?
6. What is your default font when you write on your computer?
7. How many siblings do you have?  How many children do you have (as of now)?
8. What season do you like best?
9. When you were a child, what did you want to be when you grew up?
10. If you practice yoga (even sporadically) what is your favorite pose?
11. When was the last time you cried?