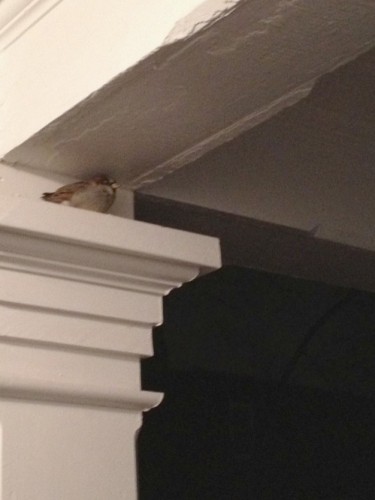 This bird, which I think is a sparrow, has lately taken refuge in the corner of our front porch's roof every few days.  The first time I saw him I had to look again, closely, wondering if he was alive.  I stood in the open door, watching for long minutes before I grew quiet enough to  finally see his little chest expanding and contracting. Yes.  He is alive.  The second time I saw him I thought: oh, wow, what a coincidence.
Now he's familiar, no longer a shock, no longer a coincidence.  The first time I pointed him out to Grace and Whit they reacted in a way that surprised me: instinctively, their voices fell, their demeanor softened.  When he comes, they each choose to stand in the front door gazing up at him for much longer than I would have expected.  They are riveted, charmed, enchanted.  For some reason they treat him, and the space around him, with a kind of respect and reverence that is rare in the rest of their lives.  Now it is they who point him out to me, and his little corner is the first place they look every time they pass the door.
"Can I name him?" Grace asked me recently.  Of course, I answered.
"I'm going to think about it," she said.  A couple of days later, she was sitting at breakfast eating her Cheerios in silence.  She chewed and looked quietly out the window.  I cleaned out the coffee maker.  Out of nowhere, she said, "Still."
I turned to her.  "What, Grace?"
"Still.  That's the bird's name."  I nodded at her.  Tears sprang to my eyes.  "Because he's so still."
And, I thought, because he's still here.  He is still, motionless, quiet, calm.  And he is devoted, dedicated; he comes back.  And now, every time I see him, I can feel something solid and velvety burrow in my chest, can feel my exhales deepen.  And I think:
Still.