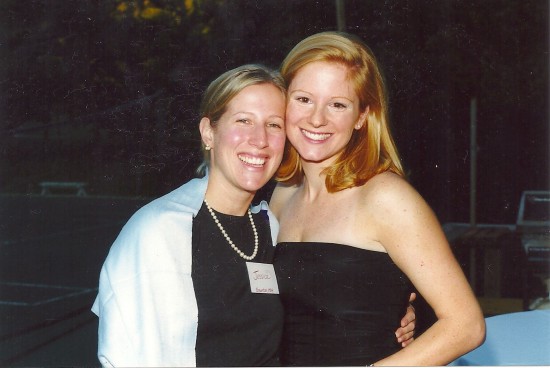 We met in a cluttered cabin full of bunk beds, trunks, old-school tape-deck radios, and pink pattered pillowcases.  We walked to the shower cabin with our shampoo in square plastic buckets with handles, wood chips sticking to our feet even though we wore flipflops.  She starred in the camp musical.  I watched and applauded, my cheeks hurting from smiling.
We sang Christopher Robin and Barges and Landslide.  We walked on the beach at low tide and swam in the ocean at high tide.  We watched movies in an old, damp cabin on rainy days.  We dressed in all white on Sundays, watched the flag come down, and went to weekly vespers services.  We fell in love, with boys and then with men and most of all with each other.
We wrote endless letters back and forth across an ocean.
We stood by each other at the altar on our wedding days, in June 1999 and in September 2000.  Her wedding day: hot and sunny.  My wedding day: pouring rain and thunder.
We had daughters, 12 weeks apart to the day.  She was the first person I called on the morning I got the startling surprise of two faint lines on the pregnancy test.  We read books and poetry and talked about them endlessly.  We kept writing letters, now mostly digitally.  Heartache rolled through each of our lives, leaving a similar burning and emptiness in its wake even though its flavors were different.  We experienced pain and loss and incandescent joy.  We shared it all.
Our hearts always lean back to the ocean and to each other.  Always back to those formative summers on Cape Cod.  Back to beach grass and dunes and tides and sunsets and acoustic music and words, words, unfurling on the page and beyond the horizon.  Back to the girls we were.
And now it is their turn.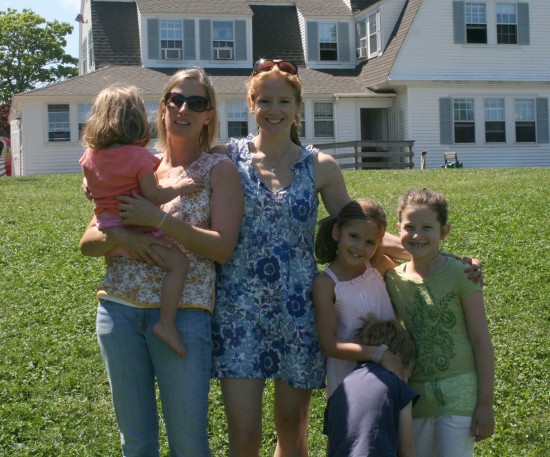 Mysteriously I could not find a picture of us as kids at camp.
Top photograph: Matt's and my engagement party, September 1999.
Bottom photograph: Visit at camp, summer 2010.