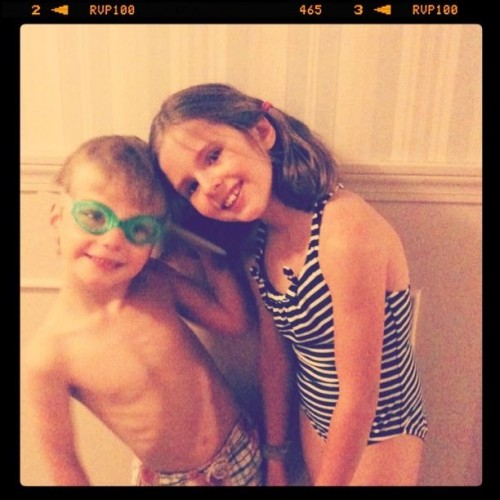 Recently, Whit, Grace and I spent the afternoon at a water park.  Whit doesn't do water slides (note: this may change soon, as he didn't do rollercoasters until last week, when he suddenly tried one and is now a Huge Ride Guy) so we spent a lot of time in the wave pool.  We headed into the waves, Grace and Whit erupting into giggles as the water splashed up our legs.  When got to the deeper water, where the waves were big, both kids started thrashing around.  I grabbed them both, holding one against each hip, marveling at how enormous, lean, and knobby their bodies are now.  Because we were in water I held them easily, feeling slippery skin against skin, looking back and forth at their smiling faces.
"So the thing, guys," they leaned their heads towards mine, listening above the roar of the waves, "Is to just float in the waves.  Let them bob you around.  Don't fight them."  I saw Whit's eyebrows raise skeptically.  "No, really, Whit.  I know it sounds crazy.  But try to just drift in the waves.  You'll see."
I let go of them and Grace immediately flipped onto her back, trying to float in the undulating water.  Whit plummeted again below the surface and came splashing up, panic and delight mixing in his eyes.  He grasped for me, water splashing everywhere.  I took his arm.  I put my arm around his waist and held him against my side, watching Grace in the waves.  It was not lost on me that this is how I held him, all the time, when he was a baby and toddler.
A few moments later I noticed that Whit was pushing away from me, trying to pry my fingers off of him.  "Mummy!"  I looked at him, surprised.  "I'm trying to drift!  Let me go so I can try to bob!"  Laughing, I let go of him and smiled as I watched him, trying to relax his body, trying to trust the rising and falling water.
After a minute or two both kids came back to me, tired, tethering themselves to my body.  Whit said, "Let's hold hands! Let's make a family circle!"  And so we did, my feet firmly planted on the floor, both kids bobbing up and down in the water as it moved around them.  Johnny Cash's voice, singing "…will the circle be unbroken, by and by Lord, by and by.." sprang into my head my head and stayed there for the rest of the evening.
Grace and I took another few trips down the water slides and I wrapped up in some towels and gave them the five minute warning.  They wanted to go back into the wave pool so I sat on one of the faded yellow plastic chairs, watching, as they stepped tentatively into the splashing water.  When they got deep enough that Whit couldn't touch anymore, I watched them both trying to float.  And then I noticed that Grace held Whit in her arms, helping support him in the roiling waves.  Tears sprang to my eyes as I noticed how her arms reached instinctively for him, how he clasped her with complete trust, their dark heads next to each other as they looked away from me towards the source of the waves.
Whit started to wade out of the water.  Close to shore, he grinned at me and then suddenly turned back again towards the pool.  He held his arms up above his head, open, walking back into the waves.  Startlingly, I thought of the minister at his christening, a tall, imposing man who had held his arms up like that while I cradled Whit above the font.  His arms open in benediction, he'd boomed, "Welcome, Samuel Whitman Russell.  Welcome, all of us."
Arms spread, Whit walked back into the waves.  Welcoming what is to come.  Without fear.  May I do the same.