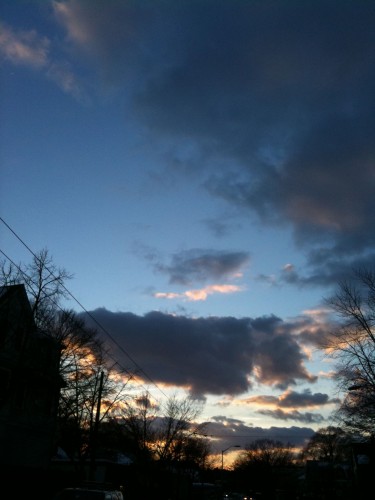 (clouds, with otherworldly light)
Do you know that feeling when you read a blog and you think: wow!  This is a better-articulated, more-thoughtful, totally amazing version of every single thing I think about, every single day?  And then you think: my God I wish this person lived nearby.  I want to be her friend!  Well, I do.  And Walking On My Hands is one of those blogs.  Pam is, as her tagline says, learning to live with grace.  I really can't recommend her blog highly enough.
Last night I had terrible, terrible insomnia.  Whit woke up at 12:30 to go to the bathroom, and the click of his bedroom door when he went back to bed woke me up.  Thursday for me began at 12:30, because I never went back to sleep.  I lay in bed for a while, went upstairs and lay on the couch for a while, watched Gossip Girl, and read Pam's post.  And then I thought about it for the rest of the night.  The sentence I can't forget is this:
There are about a zillion ways to hide from your own life, and I have done every one.
The identification with those words was so intense I felt like someone had knocked the wind out of me.  This is what I was doing, all those years when I was in such a frantic hurry that I never actually noticed the right-now of my life.  This is what I was doing when I wasted whole chunks of time mourning something or someone who was already gone.  This is what I was doing when I ignored that whisper inside of me that said hey, maybe this isn't what you want, and instead hurtled towards the accolades that felt so good to receive.  This is what I was doing when I ate emotionally in the years after college.  This is what I was doing when I ran and ran and ran in the ice-cold winter woods at Exeter, an hour a day, tears often streaming, then frozen, on my cheeks.
Pam's words fell on fertile soil: the me who is up in the middle of the night with insomnia, suffering from a kind of spiritual indigestion, is even more porous usual.  I couldn't settle into sleep from my day on Wednesday.  All day I was just off balance, literally and figuratively.  I slipped several times during the day, twice during my early morning run (I caught myself both times) and once, wearing work clothes, in the middle of Back Bay after an interview (I completely wiped out).
Whit cried when I took him to school because these days I drop him off rather than waiting to take him up to his classroom.  I do this because there are about four parking spots in a one-mile radius of school and I don't feel right hogging one of them for the 30 minutes we used to sit together.  But, still.  In the afternoon Grace pulled me aside, in tears, and listed a litany of all the little things I do that fail and hurt her.
I was keenly aware of my shortcomings as a mother.
I felt overwhelmed by my job.  The demands are coming fast and furious right now, as we enter an annual period of concentrated effort.  My calendar for the next couple of weeks suddenly felt chokingly busy, including a day trip to San Francisco.
My cheeks burned with the prickly heat of not being very good at my job.  Certainly, of doing a poor job balancing it.
I felt the guilty pressure of my nascent book manuscript sitting, untended, on my desktop.  I haven't had the time to look at it, to really spend time diving into its pages, and that truth hangs over me like a storm cloud, its grayness shading every frame of my day.
My commitment to writing, and to this project in particular, felt perilously close to slipping away.
And so I spent Wednesday afternoon and evening in a funk.  I was tearful and frustrated.  At dinner with two dear friends I was distracted and quiet.  At home with Matt I was short and snappy.  I couldn't sleep, and when I finally did it wasn't for long.  I started this post thinking: I still avoid my life.  Isn't that what I was doing by being pissy, and not really engaged, and wakeful?  I don't know, though.  Maybe that IS being present to my life.  Even when it's difficult, and full of obstacles, and feels empty of joy.
Even in the midst of my dense crankiness, however, I read an essay by my friend Katherine and found myself crying, moved.  I realize that the heart of me, that raw, tender place full of shadows and startling blazes of light, is so much closer to the surface now.  Even when it is temporarily occluded by the frustrations of a bad day, it's never totally lost from sight.  This is what Pam is talking about, I think, when she speaks of not avoiding her life.  Isn't that heart, in fact, my life?