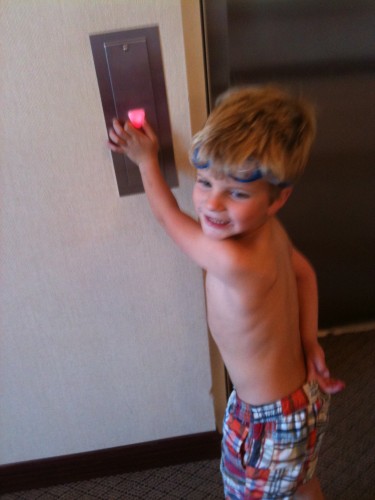 I've written an awful lot about Grace's sensitivity and old-soul tendencies. This summer, however, this summer of adventures and trips and full to bursting with memories, it is Whit who is more often exhibiting a nostalgia and awareness of life's bittersweetness.
About a month ago in a conversation about dogs, the kids mentioned Parker, who was Matt's twin brother's family's dog. Parker, a good-natured, easy-going yellow lab, who was absolutely beloved of my children, died a couple of years ago. I can't remember exactly the context in which Parker came up earlier this summer, but I remember that Whit noted sadly that he had died. He was quiet after that, pensive. On our drive home I asked him what was on his mind, and he shrugged, looking out the window, and said, "Parker."
"I know, Whitty, I know. It's sad."
"Why do we have to have people and things in our lives that will go away, Mummy? I almost wish I hadn't known Parker because then I would not miss him."
***********
We landed at Logan from Legoland at 8:30pm. We had left our hotel at 7:10am that morning. Even with the 3 free time-change hours, that's a long day in the air. Needless to say, once we had gotten home and eaten, Whit was exhausted. I put him to bed curled up around Lego the big green bear and assumed he would pass out immediately.
Instead, after about 20 minutes I realized he was crying in his room. It's uncharacteristic for Whit not to come out whenever he has the smallest excuse to do so, so I was surprised. I went in and lay down next to him on his bottom bunk.
"Whit, what's wrong?" I whispered.
"I miss Legoland! I miss …" a hiccup, "The hotel! And all the fun we had there!" He was crying hard, clutching Lego to his chest.
"I know, Whit. Me too." I rubbed his back and felt my own tears come.
"I hate that that trip will always be over, Mummy. We can never have it again."
*******
Tonight, I put Whit and Grace to bed early. They came home from a week in Vermont with their grandparents exhausted and delighted, tripping over each other in their excitement to tell their stories, and each clutching some brand new stuffed animals. Once again I assumed that the boy who fell asleep in the car (with a chicken mcnugget clutched in his hand, no less) would go right to bed.
Wrong. He popped out of his room and peered down the dark hall to me sitting at my desk. "Whit?"
"I can't sleep."
"Okay. Let me come in and help you."
"Will you cuddle me?"
"Of course." I lay down next to Whit again, smiling at the robot sheets that have made me smile every day for years. I rubbed his birdlike shoulders as I whispered to him. "Whit, just think of some happy things,"
"I can't," he wailed.
"Yes, you can. Think about the fair yesterday with Grandma and Grandpa."
"But that makes me sad, Mummy,"
"Why?"
"Because then I miss it. I can't think of anything good because I am sad it's over. If I think of anything bad I get nightmares. So what should I think about?"
Oh, Whit. I don't know. I think your pulse throbs, like mine, with the heartbreaking, irrefutable reality of life's endless farewells. This isn't the first time your melancholy has flashed through your light personality this summer. I'm realizing that both you and your sister have inherited from me a heavy freight, and I wish I could take it for you, my blue-eyed boy, believe me, I would if I could. I wish I could carry the ballast that sometimes weights your soul; I know exactly how it feels, and I wish you didn't.
I've lived my entire life this way, every joyful moment has had a strand of loss woven through it. I wish you didn't have to ever know sadness or miss something, but I can't take that away. What I know is that you can't avoid the love, the joy, the happiness, for fear of the loss and sadness that will follow when they are over. You just can't.  And I know you'll have losses and pain far, far greater than missing Legoland or Parker.  I flinch to think of that, but I know you will.  I think often of the line from Shadowlands:
The pain now is part of the happiness then.  That's the deal.
What I also know, Whit, is that this is a good way to live life. It's the only way I know how.