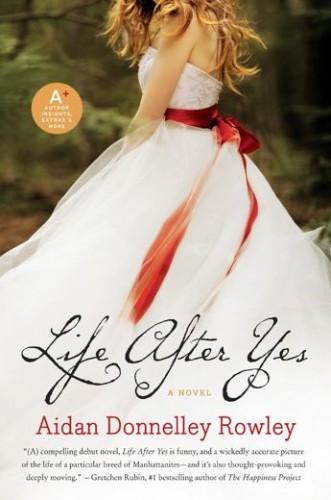 The time has come … (I keep hearing, in my head, "the walrus said, to talk of many things…") But the time has come. It's here. Life After Yes debuts today and I whole-heartedly encourage you to order it. It's been such a pleasure and an honor to live this process a little bit, vicariously, through Aidan. I read snippets of the book as she revised it, listening to Coldplay, at Starbucks. I saw the cover before it was final. And, finally, last week I got to hold it in my hands. And read it. And revel in it.
Life After Yes is, first and foremost, an absolute pleasure to read. I gulped it down in two sittings. Aidan's characters are human and likeable, despite their real and visible flaws. The dialog is real, the descriptions of New York vivid, the particular moment in life recognizable to all who've been through it.
But Life After Yes also dares to ask some big questions. The book is, in my view, about two main things: about the ways that loss echoes through our lives, crippling and humbling us in ways we cannot anticipate, and about the various crutches and devices we use to keep ourselves from embracing life, from saying, wholeheartedly, YES.
The book's protagonist, Quinn, lives in the shadow of her father's unexpected death on 9/11. This is particularly poignant because any reader of Aidan's blog knows that she lost her father very recently. It gives me shivers to think that Aidan wrote this novel before her father was sick, as though her subconscious was prodding her to work through this particular life passage in advance of needing its wisdom. Quinn's fiance, Sage, also struggles with a deep loss. The way that Quinn and Sage and others around them (in particular, each of their mothers) reckon with the ramifications of these deaths forms the beating heart of the book.
Quinn's story is also about the myriad ways that we hide from true and honest engagement in our lives. Aidan explores thoughtfully all the various tools that people use to numb themselves, to avoid really looking at the core of who they are and what they have chosen. There is alcohol, there is empty flirtation and sex, there is betrayal, there is plain old denial. We watch Quinn realize the futility of all of these crutches, and ultimately we see the beauty and joy that is possible when we overcome the human instinct to hide from ourselves. Part of this process for Quinn is also about letting go of her need to follow the yellow brick road, the path of great adulation and achievement. I relate to this keenly, and particularly loved the passage where Quinn begins to trust her inner compass:
Something clicks. I've spent my whole life stockpiling reasons – for why I should go to law school, or become a litigator, or become a wife. Maybe some things don't need justification to be right. Maybe instinct is the best measure.
There are other themes in Life After Yes. Quinn's maturation into herself is integral to the plot, and we watch her dreams of how her life would be confront the reality of how it actually is with results that are sometimes bitter, sometimes beautiful. Life After Yes is also a love letter to New York, and Aidan's abiding love of the city she grew up in and still calls home radiates from every page. The law firm where Quinn works illustrates the alternative universe some professions inhabit, where a very different morality passes for normal and where people are so good at their facades that they can lose sight of their actual selves.
I loved Life After Yes. This book is fun to read and also full of provocative questions and lingering meaning. I can't imagine a more compelling combination. I am proud of my friend and very honored to have been able to read this book. I heartily encourage you to do so as well. You can buy it here.