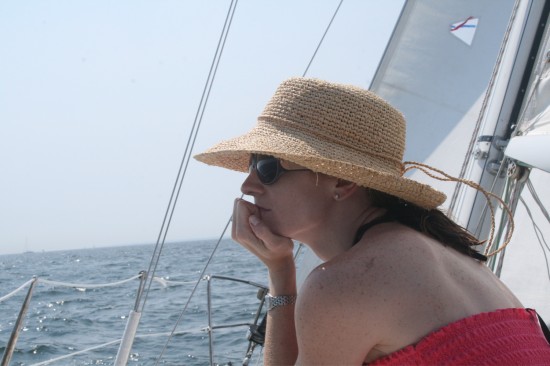 "I am not afraid of storms, for I am learning how to sail my ship." (Louisa May Alcott)
This quote, long known to me, has been in my mind lately. It occurred to me yesterday that overall, though, I feel a strange combination of storm-tossed and run aground. Both whipped around in a frenzy of wind and water, but also stuck, unable to move. This contradiction underlies a tension, I think, that I've written about before: the feeling of holding opposite poles in my hands simultaneously. The middle place, I guess. Stuck and lost. At the same time or alternating with an awkward rhythm.
Neither of these feelings is comfortable, and they both entail my Greatest Fear: being out of control. In the storm, I often feel unsafe, buffeted on all sides by influences whose intentions I am not sure of, by events and powers that I do not understand. But when run aground, I feel stuck, trapped, unable to move towards that life I am increasingly sure I want.
"A ship is safe in the harbor, but that is not what ships are built for." (unknown)
All of the fear around being lost in the storm or stuck on the shoals could easily drive me to seek refuge in a safe, protected place. And oh how I know the feeling of wanting someone to keep the world at bay for me. But then I remind myself: this is not where life is lived. It is the moments when I've let go, gone on the (metaphorical) roller coaster, opened my heart up to the inevitable bruising … this is where I have felt most alive. And in truth? Most of the harbors I have known have become their own traps after a while.
"I must go down to the seas again, to the lonely sea and the sky." (John Masefield)
Hiding, retreating: this is not the solution. The sea – the storm, the wind, the rain, the water, sharp shells in the shallows that can cut you – this is where life is. In the mess, the unpredictable patterns, the haunting call of seagulls and the rhythmic snapping of halyards against masts. In the squeals of children splashing at the water's edge, in Grace's incandescent grin when she swam to the distant raft by herself, in the flash of white sails in the sunlight as they pass by.
These thoughts of the sea remind me of my parents, always, powerfully. I close with one of my Dad's favorite poems, which I also deeply love. It reminds me of what I have always known: that the sea, as disorderly and uncontrollable as it is, is also home. We cannot control the tempestuous ocean of this life. Better to cast out to sea.
Crossing the Bar (Alfred, Lord Tennyson)
Sunset and evening star,
And one clear call for me!
And may there be no moaning of the bar,
When I put out to sea,
But such a tide as moving seems asleep,
Too full for sound and foam,
When that which drew from out the boundless deep
Turns again home.