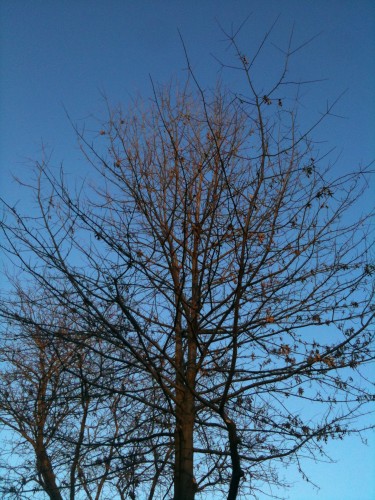 Photograph taken yesterday evening, walking to dinner with Grace.  The iphone, while valiant in its effort, could not really capture the light on the branches.  It seemed alive, warm, full of promise and the hope of spring.
I love the Dixie Chicks.  One of my favorite of their songs is Easy Silence, and it runs often through my head.  It is doing so today.  The lines that I hear, over and over again, are these:
… I come to find a refuge in the
Easy silence that you make for me
It's okay when there's nothing more to say to me
And the peaceful quiet you create for me
And the way you keep the world at bay for me…
I love these lyrics, and these images.  Easy silence.  Peaceful quiet.  World at bay.  Doesn't that sound divine?  It's the last line that I come back to.  The desire for someone to keep the world at bay for me.  I know this urge.  I know it on days when I'm feeling like the world is too much for me, too much with me.  Years ago, I shared this quote, and this longing, with my father.  His reaction was immediate: he sort of scoffed and then said, "but wait, you don't really want that, do you?" in a tone that clearly suggested that there was a right answer, and that answer was NO.
That response made me think about how I'm not supposed to want that.  I'm supposed to want to engage in the world, risk be damned, right?  In the immortal words of Tom Robbins:
All a person can do in this life is gather about him his integrity, his imagination, and his individuality – and with these ever with him, out front and in sharp focus, leap into the dance of experience. (Even Cowgirls Get the Blues)
Right? I know.  I'm supposed to leap.  I'm supposed to be a strong woman, comfortable with the pain of loss and the bruises of hurt.  To be open to every experience.  I'm supposed to want to go to the woods, to live deliberately.  Aren't I?  Well, sometimes I do.  But sometimes I don't.
The truth is, though, that hiding, having someone shield me, and keep the world at bay, is sometimes very seductive to consider.  Of course, this is just another way to say "keep safe," and we know that is something I long for.  And I don't, truly, want to be removed from life.  Of course not.  But I do want to be safe.  And there are definitely some days when I ache for someone to keep the world, with all of its pain and menace and fear, as well as its blinding beauty, at bay for me.