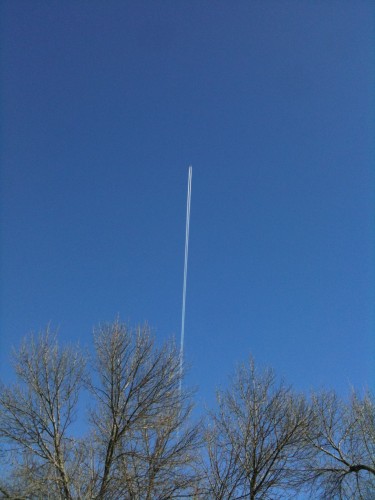 I took this picture last weekend. I am struck by two things: the incredible, blade-like line of the airplane moving through the sky with purposeful speed, and the aching blue of the sky. The movement and the stillness that underlies it. The trajectory and the background. This image is a good metaphor for something I've been thinking about lately: having drive, and being driven. Our society says both are excellent qualities. But both of these descriptors puzzle me, for correlated but separate reasons.
To have drive. To be ambitious, to believe in oneself, to do great things. Right? But drive also assumes motion. For most of my 35 years I would have nodded vigorously and agreed with this. But in the last couple of years I've heard an increasingly loud voice in my head telling me that that may not be right. Telling me that maybe the ultimate goal is not motion but stillness. That, even in the midst of a frenetic life with many goals, the real richness is right here. That "great things" in fact consist not in having propulsion, necessarily, but in having the patience and strength to be still.
To be driven. Same general connotations: eagerness, striving, energy, goals and aspirations. And yet. To be driven is to give the agency to another, no? Who is driving? This might sound a little pat and pedantic, but, really, what does it mean? And where are we being driven to? Are we setting the direction from the passenger seat?
These questions, clearly, are part of my larger rumination on the notion of velocity vs. direction, speed vs. stillness. This is not a new theme for me, of course, but it's much on my mind lately. I wrote about this last fall at Mrs. Chicken's lovely blog, Chicken & Cheese. There are so many ways that this tension reverberates in my life. Writ large, I think, I'm questioning velocity as a defining emphasis for life. Starting to realize the ways that focusing on where we are going takes us away from all we have: here. now. And yet there are parts of me that are innate, immutable: I am impatient, I speak and move quickly, I am not, by nature, a still and calm person.
What's new, I guess, is my longing to be. And if I've learned anything in the past year or two, it's that being engaged, present, patient, is less a trait and more of a practice. Sure, I think it comes more easily for some, but I am greatly encouraged by a strong sense that this is something we can work on. As Dani Shapiro said at her book reading, the practice is beginning again. Recognizing our thoughts taking over, and returning again to the place of stillness.
What if I wasn't driven? So what? Begin again.
What if I didn't have drive? So what? Begin again.
What if I'm distracted, my mind doing cartwheels, my anxiety bubbling up? So what? Begin again.
Be here.