It is my honor to introduce the wonder woman I am featuring in today Present Tense conversation: Taylor Wells. Taylor and I met in August 2000 at a yoga retreat in Montana. It was a trip that changed her life in enormous ways, and I have had the privilege of watching those changes and of experiencing first-hand the growth of a person into their dharma.  Taylor absolutely radiates peace. I asked her to participate in the series because I know she has thought deeply on the issue of consciousness and her answers affirmed this. More than anyone else I know, Taylor takes concrete steps and makes specific decisions to support this path. The peace and sense of being centered that she gives off is testament to how effective this practice is. Read and learn: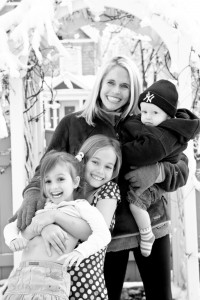 1. When have you felt most present? Are there specific memories that stand out for you?
Every single day after my yoga practice
When painting, playing, and/or reading with my three children. Whenever I'm in nature – especially hiking up a mountain or at the ocean,
When cleaning and organizing. Very Virgo! So our home is very organized – effortlessly. A nice perk for my husband and kiddos!
When writing.
2. Do you have rituals or patterns that you use to remind you to Be Here Now?  
Yes. I do them every day faithfully. It's a practice, and I'm very disciplined and I practice daily. I cultivated this discipline at a very young age – when training for the Olympics in ice skating at age five and up, and training for the pro circuit in tennis while living at Nick Bolletieri's at age twelve and thirteen.
I practice prana power yoga every single morning – first thing. While practicing, I read flash cards I've written with inspirational, spiritual, be here now, and be grateful quotes. My two year old son, Phoenix, puts them out in front of my mat for me – about 6-8 of them. He knows the drill. I have hundreds of them and I choose them at random each morning. Those are my lessons/my mantras of the day. This is my way of setting the energy/the template for the day, much like putting twigs into a fire that burns all day long
I put only raw high vibration vegan food into my body. This keeps me in the now. Cooked, processed and animal foods cause our bodies and minds to go on auto pilot. They cause us to zone out and exist like the "living dead." Food really is a drug. Use it wisely
Very first thing in the morning – when I open my eyes and before I get out of bed – I thank the universe for everything I am grateful for. This takes a while! I have a lot of gratitude. I cultivate an attitude of gratitude first thing in the am. Then I visualize my day, going exactly as I ant it to go. It's mostly energetic – things flowing beautifully and easily, lots of smiling and laughing, efficiency, joy, and love.
3. Do you have specific places or people that you associate with being particularly present? Who? Where? Any idea why?
My children are my biggest teachers – my three children and the twins in my belly. They are totally present all the time, effortlessly. They know nothing else. I learn from them every moment. They remind me constantly. They bring me back. They are gifts from the universe. That's why I keep having them!
My yoga mat. Also a gift from the universe. No matter what's going on, I always feel better and am more present and grateful after a practice. Always.
Being in nature. It always brings me back to the moment and quiets my mind. The birds, the wind, the trees, the chill in the air. It's magic.
Talking with my soul mate/husband, Philippe. We are very in sync and very connected and just talking with him brings me back, if I've drifted off somehow. I remember years ago, when we were first dating, telling a dear girlfriend how Philippe and I would lie on the couch together and talk for hours – like three or four hours. She smiled and was happy for me, and said gently and sweetly that that would probably change with time, as our relationship evolved and responsibilities accrued, etc. I'm happy to say that we can and do still talk for hours, amidst all of our co-adventures and responsibilities (Prana yoga centers, Prana cafe, consulting, co-parenting, homeschooling, etc). And the reason why we can and still do is that when we talk, I truly let go of everything and am totally present. I'm not thinking, "Oh, I have 200 emails to respond to, so I have to go now," I'm just there with him. That's a blessing that I always cherish.


4. Have you ever meditated? How did that go?
I used to meditate daily – twice a day. Now after studying a lot of Abraham-Hicks, I've learned that "we didn't come here to be on pause." 🙂 So instead I've trained my mind to think positive thoughts – things that I want and aspire to – instead of blanking my mind out. Abraham says that meditation is great if your mind is negative/racing/etc, but with the time and practice, it's best to learn to train your mind to think positive thoughts – to create what you want, using your thoughts. I've gotten pretty good at this, with time and practice. It's called manifestation, and it's very fun.
5. Has having children changed how you think about the effort to be present?
OMG Yes. The day I had my first child, I changed forever. And with each child since, I have continued to transform. I also transformed during my first yoga practice, and continue to transform each time I get on my mat. However, having a child is a slam dunk. My children are my biggest teachers (as I said above) and also they are a reminder to be present so I can teach them to do the same. We are so blessed to be able to spend a lot of time together (my husband and I homeschool and don't use nannies or day care because we are able to do so – since we run our yoga centers and cafes out of our home), and they watch every move I make and mimic me. That's a lot of responsibility – the biggest ever. And I take it seriously – and with joy and honor.
6. And just cause I'm curious, what books and songs do you love?
I love all Krishna Das and Loreena McKennitt. I also love James Taylor and Elton John! They are classics.
I love most every spiritual book I've ever read, especially all Sanaya Roman (have read most twice or more), Louise Hay, Deepak Chopra, Marianne Williamson, Wayne Dyer, and Stuart Wilde. I am not a fan of fiction. Can't get through a page. My spirit only likes spiritual books and nonfiction.
******
What Taylor's answers tell me, most of all, is that
presence is a practice. As she says. This is something you can commit to, and with effort it can become more of a habit. I am inspired by all of the things you do, Taylor, by your discipline and commitment to living an engaged and aware life. I remember visiting your old house, years ago, and seeing index cards taped up around the kitchen with inspirational quotes. I turn to my own quote books (hand written, filled over the years) almost daily; it is only a small leap to make these an explicit part of my everyday environment.
Your answers about meditation remind me of what Danielle said, and both make me recall Thich Nhat Hanh, whose writings I've long admired. The lesson I take is that life itself, even (especially?) in its most mundane moments, can be a meditation. It is in our attitude, in our own minds, that the meditation occurs. Perhaps to cultivate a mind that is capable of this we need to
formally sit and chant, but the end goal seems to be actually engaging in our lives with the kind of mindfulness we might bring to a traditional meditation session.
Taylor, thank you. For those of you who want to learn more about Taylor, you can read her blog at www.super-mom.com, learn about the yoga studios she and Philippe founded and run at www.pranapoweryoga.com, and about their raw food cafe at www.thepranacafe.com.