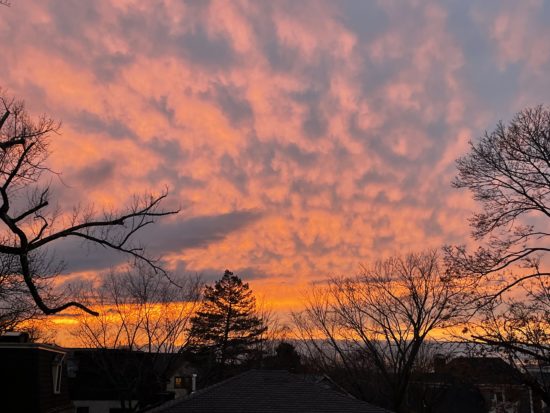 Wow … it's been a minute!  I'm eager to hear what you are reading, thinking about, and loving lately.
Cloud Cuckoo Land – Anthony Doerr's latest is my favorite book of many years. This is a simply extraordinary tale, which does that most exalted thing books can do: touches on what it means to be a thinking, feeling human being in the world. I loved All the Light but I ADORED Cloud Cuckoo Land. This book is about books, about language, about the power of story to inspire, protect, and keep us. Run don't walk. Absolutely remarkable.
Andrew Garfield on grief – Wow.  Just wow.  This is an extraordinary video that made me weep and made me nod and made me feel grateful to be in this world.  Perhaps because of the point below I am feeling particularly porous this week but I think everyone should watch this (and if you know me you know how resistant I am to watching video on the computer). Thank you to my friend of many years Meghan Jarvis for pointing me to it.
Thanksgiving – The sunset above was from the other night, no filter, from my office window.  I shared it with these words on Instagram: This will always be an emotional week for me. Four years ago Thanksgiving was the last time I saw my father. On 11/26/17 he died suddenly of a suspected heart attack. Thanksgiving was already our family's big holiday – for decades we celebrated at my parents' house in Marion with between 25 and 40 people, two turkey, ties, toasts, and an after dinner walk to the yacht club. And in 2017 it was especially sentimental because we had just lost Matt's dad. On thanksgiving day I posted lines from one of my favorite poems, by Merwin: "and we are saying thank you and waving dark though it is." It was about to get a lot darker. And I kept waving and saying thank you. Still am. I remember my last conversation with Dad, which was about books. Thanksgiving looks different now – this year we will host, and it's going to be a lot smaller. But the themes of family and tradition and loyalty and love remain. And for that I'm so, so grateful.
Grace is home!  Grace surprised us on Friday night and is home for a whole week which is heaven.  I love having both Whit and Grace at home.