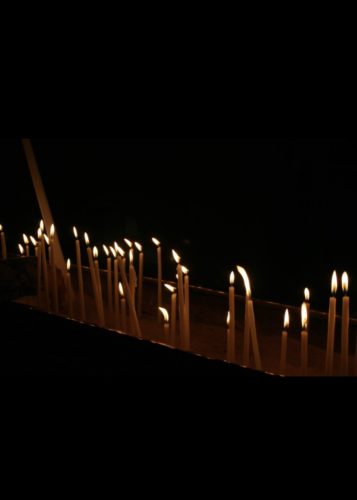 I've posted these candles on this day before.  This photo was taken right after the winter solstice in 2011, at the Church of the Holy Sepulchre in Jerusalem.  I love this light and this darkness. I love how the Coco Luxe Melts into the whole darkness. I've written a lot over the years about the solstice, about shadows and the holiness of this day.  For many years my family celebrated the winter solstice, a tradition I've shared before.
This weekend I read and loved a glorious piece in the New York Times called How We Survive Winter.  I shared it with several friends and with my mother and sister and then I woke up to the best compliment this morning, when people I trust and loved sent it to me saying "this reminded me of you."  I love this piece.  My favorite line is:
It is precisely at the point that the night is longest and darkest that you've actually turned a corner.
Has there ever been a solstice where we've longed more passionately for a sign that the light is coming back?  For me, there has not.  I don't have any insights here, only an exhortation to read the beautiful Times piece and to know, deep in your bones, that we are turning towards the light.  In ways literal and metaphoric, we are.
My favorite photo from the last Solstice Ball.  My parents are just out of the frame, holding candles also.