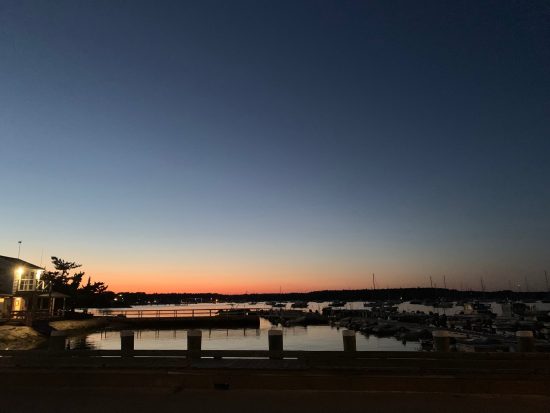 This summer was different.  In so many ways.  And yet it was also the same.  In general I'm finding this particular year profoundly disorienting, especially the way time seems to be functioning these days.  It's both Groundhog Day – every day the same – and yet the days are slipping past even more quickly than usual.
We spent a LOT of time as a family this summer.  And we added my mother to our pod.  More nights than not the five of us had dinner on the back porch in Marion, laughing often, snappy sometimes, quiet occasionally.  This is a strange time.
Grace and Whit filled their days with a lot of hanging out, sleeping in, and a fair amount of looking at their phones.  Whit started skateboarding and found a new passion for fishing.  Grace did some online tutoring.  The two of them connected deeply with a few friends in Marion, where my family has a house and where we spent a lot of the summer.
Matt played a lot of golf.  We played some family tennis (and, as always, I am definitely the weak link in our family tennis chain).  Grace and Whit sailed often with my father's best friend.  The blossoming of those relationships into what feel like sturdy grandfather-grandchild style bonds brings me great joy.
I did a lot of puzzles.  I did a lot of work.  I ran a lot.  I read a lot.  My favorite book was The Dearly Beloved
by Cara Wall which has vaulted into the pantheon of my all-time favorites.  Just.  Amazing.  Read it now if you have not!
Matt and I made margaritas with fresh grapefruit juice more than once.  Whit discovered he loves corn on the cob. We ate fresh tomatoes with mozzarella with basil out of the garden, chicken with my great-grandfather's homemade barbeque sauce, and a lot of ice cream.
We drove to Maine to meet our puppy, Phoebe, who joins our family in a few weeks.  We stopped and ate outside at Duck Fat in Portland on the way back.  It was a joyful, spirited day with an uncommon amount of laughter.  There were a lot of happy moments, and a fair number of tense ones, too.
I can't speak for others in my family but I'm aware of a tugging undercurrent of worry, anxiety about where the world is and seems to be going.  I'm nervous about my children going back to school, I'm afraid of what I see happening in our country.  I worry about my mother's health and, to a lesser degree, about that of the others in my family.
I miss writing here, but I feel like I have nothing to say, at the same time.  Life contains so many opposites, so many things that don't go together, so many pieces that rub up against each other in awkward or disconcerting ways.  At least that's my experience.  I don't have a neat summer summary post with all kinds of fun things we did.
Instead I have these fragments, held together by white space, by hoping, by bewilderment, by life itself.
My daughter turns 18 in 2 months.  Evening comes so quickly these days.  Time moves inexorably forward.  That's unavoidable and both reassuring and sorrowful to me, right now.
Fragments.  Joy.  Sunsets.  Family dinners.  Memory and so much love.  Trust and arguing and circling back for forgiveness and grace.  That's right now.  And what I know, deep in my heart, is that it's enough.