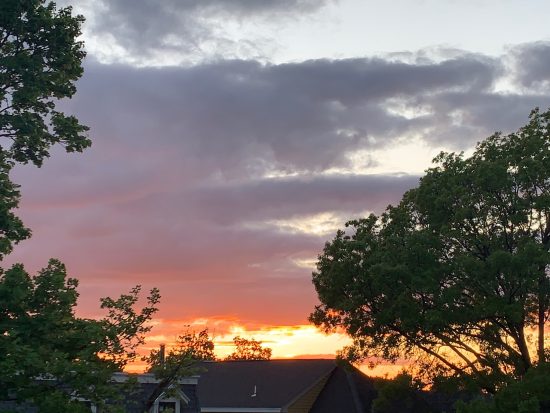 I woke up with Yeats in my head:
Turning and turning in the widening gyre
The falcon cannot hear the falconer;
Things fall apart; the centre cannot hold;
Things feel terrifying right now, uncertain.  I ache for my children, who face a wall of questions about what happens now, while I at the same time feel certain that this time of dislocation will make them stronger eventually.
I was touched by an email this weekend from Harvard president Lawrence Bacow to the university community in which he acknowledged these disorienting, scary times and responded with a list of what he believes.  It was beautifully written, I shared many of his beliefs, and it seems to me a good way to respond to such universal uncertainty: to return to what we know, what we trust, what is right in front of us.  So much of this time has been, at least for me, a return to what I always believed, knew, felt, and loved.  A reminder of what matters.  Of course that happens in the context of a larger fear – now our country's deep anger and racial divisions, not just the threat of coronavirus – and I recognize just writing that is an act of privilege.
Still, it's the only thing I know to do.
What does he believe, and I share?  I believe in the rule of law.  I believe that those who wear a uniform and have a position of power should use it responsibly and right and those who do not should be punished.  I believe in the American dream.  I believe in science.  I believe in the power of art. I believe that sometimes the greater good is more important than what we individually want, and that now is one of those times.
So I will look out the window, hear Yeats in my mind, read literature and poetry (David Brooks was also wonderful, in my opinion, last week, and he referred to the way that a training in the great traditions of art can instill empathy and leadership).
I don't have a neat conclusion here.  I just wanted to reach out to say I'm here, I'm paying attention, I'm thinking of you.