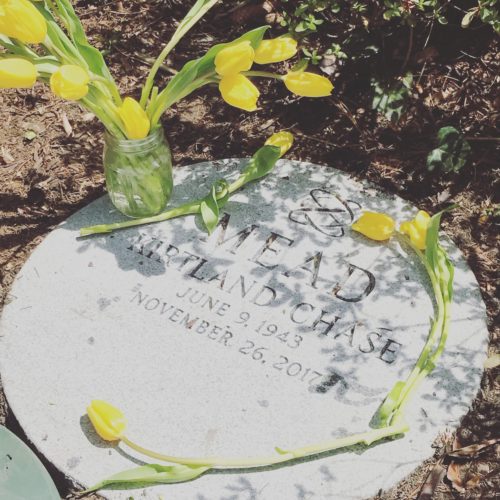 I'm surrounded by kind, thoughtful people who ask now and then how I'm doing.  The question is not simple to answer.  In some ways I feel mostly ok, as though I'm moving through my days with a new, stubborn shadow over my existence but moving all the same.
In other ways I feel not at all ok, and if I'm honest, I'm a little bit surprised that that's still true.  I didn't think I'd "bounce back" after Dad's death, necessarily, but I thought I'd maybe feel more functional faster.  My days oscillate between these two realities: wow, I'm doing okay, and wow, I'm still so darn sad.
But more than anything – and this is what I usually say when asked – I'm astonished by the sturdiness of my disbelief.  The sheer disbelief I feel about dad being dead can only be categorized as irrational, and I've never been irrational before.  Intellectually I understand that he is gone.  But emotionally I still seem to not quite get it.  At least once a day I bring myself up short with the thought that my father is dead.  It is often seeing his photograph that brings that thought to mind.  It's also often the sudden thought, "oh, I want to tell Dad about this."
And then … oh, wait.  No.
How long will it take to feel real?  I honestly don't know.  We are nearing the six month mark, and I'm still as astonished by the truth of Dad being dead as I was the day after he died.  Life is clearer now, and I feel a bit closer to "normal."  This was brought home to me last week when I finally looked through the basket of Christmas cards that has been on our front hall table since December.  I literally do not remember seeing at least half of them.  December was such a blur; in retrospect I'm sort of amazed that I walked through it.
When I think of those first weeks, when I'm confronted with evidence of how "other" that time was (like the cards, which I definitely opened, read, and put in the basket) that feels like another life.  The days and weeks since then have crawled by, as I've mentioned.  Yet it's still not real that Dad's dead.  I can't believe that I can't believe it, and yet I can't. The phrase I return to over and over is sturdy disbelief.  Like the sturdy joy of which I wrote several years ago, this feeling of not-real-ness is immovable, stubborn, solid. Maybe it's some kind of coping mechanism.  I don't know. I have to imagine it will release its hold on me, this disbelief, and gradually Dad's death will sink in.  But for now, I move on, daily gasping when I remember yet again that he's gone.