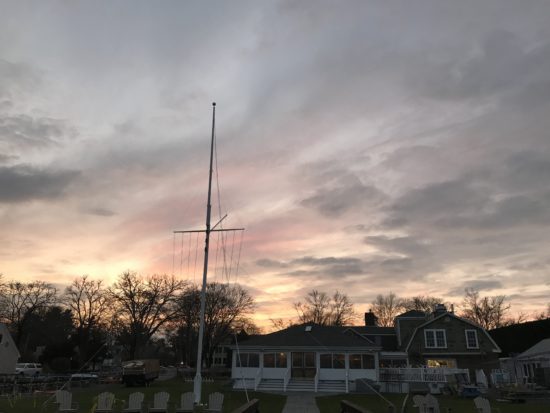 sunset over the reception after my father's funeral, 12/3/17, photo by Grace
How shall the heart be reconciled/ to its feast of losses?
I've written about these lines, from Stanley Kunitz's beautiful poem The Layers, many times.  That fact makes me shake my head now … I never knew what loss meant, until these weeks, so it feels naive that I was writing about it at all.  Maybe I was getting ready, in some strange way. I do think all our experiences add up to where we are, and in retrospect things make sense, so perhaps the circling around impermanence, and loss, that I've been doing here and in other writing, has been some kind of preparation or prescience.
In October, I shared a photograph on Instagram with a caption about how September had felt like an earthquake for our family.  I almost worry about sharing this piece today, for fears of what tremors lie ahead. Am I jinxing us? Every time I think the earth has stopped shaking, there's another rupture ahead.  This one, my father's death last month, is for sure the largest for me.  By a mile.
Dad was the center of my world, his is the voice I hear in my head, he was my first and most essential advisor, counselor, and sometime critic.  My mother, who I've described as "like the sun, surrounded by orbiting planets," is an integral part of my daily life, much more than Dad ever was.  But his influence in some ways loomed even larger, and until the day I die it will be his approval and opinion I seek above all others.  His loss is immense, and to come on the heels of of my father-in-law's death feels almost inconceivable.
I designed our holiday cards before Matt's dad died.  They feature a photo that's not great of us four, notable because we are in motion.  The whole card was about things being blurry due to change: 2 new jobs, 2 new schools, half of our nest now empty.  At Labor Day, this had already been a huge year of transition and change.  And then came September and November, and back to back deaths, and suddenly we are deep in grief on top of breathless from all that's new. It occurred to me only as I wrote this post that it's these two men's names that I have, one my middle, maiden, and professional, and one my married and legal.  I'm proud to have both of their names, and grateful for the enormous ways that both shaped me.
I'm struggling to catch my breath and to find my footing.  I keep thinking of Kunitz's lines, and about how this autumn has truly been a feast of losses. There are two other lines of writing I'm thinking of a lot these days.  One is Mary Oliver: "Someone I loved once gave me a box full of darkness. It took me years to understand that this too, was a gift."  Dad gave me a box of darkness, in his death, yes, but also, I'm beginning to understand, in his life.  The seam of sorrow that ran through his heart I recognize in myself.  He and I talked about light and darkness often, but it's one conversation I remember particularly vividly.  He quoted a passage from Paradise Lost from memory.  He was comfortable with life's poles, and knew the way that one enriched the other.  I have written about this a lot, and I suspect it's his single most enduring gift to me.
The other passage I keep hearing in my head is Khalil Gibran: "The deeper that sorrow carves into your being,the more joy you can contain."  I have long believed this to be true, and I already knew I was capable of deep sorrow and deep joy both.  These last few months, however, have shown me new depths of loss and sadness, and I suspect it will take a while for me to experience the commensurate joy.
I really do feel like I'm standing in the rubble of an earthquake, and what's new since the last time I mentioned an earthquake in October is my fear there are more startling, unanticipated shocks coming. Maybe there are.  I can't focus on that now. What I do know is that I'm changed forever after this fall, and I'll never stop missing my father-in-law or my father.  I am still deep in mourning, but even from this dark, dark place I feel undeniable gratitude that both of them were in my life.  "Though much is taken, much abides."  Indeed.