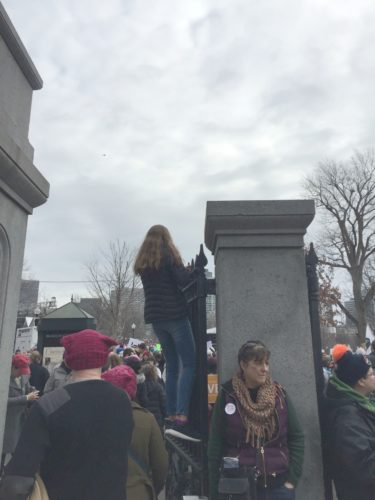 On Saturday, January 21st, Grace and I left our house at about 10:30 to head into Boston to join the march.  There was a couple behind us in pink hats as we walked down our street to the T stop.  It was crowded at the T stop, and it was slow going down the escalators to the trains.  It started to dawn on me that a lot of people were there.  We had to wait for a couple of trains to go by because only a couple of people could squeeze into the cars, and the platform was jammed.
Finally we got into a car.  As we made our way into Boston, slowly because there were a lot of unusual stops (presumably because the car ahead of us couldn't shut its doors when trying to leave the station ahead of us), the people in our T car began to sing.  First, We Shall Overcome.  Then, This Land is Our Land.  I had tears rolling down my cheeks within moments.
We got off the T in Boston and made our way slowly down Charles Street towards the Boston Common.  The streets were packed with people walking, holding signs and wearing pink, men and women both. When we got to the Common, we found a corner to stand and Grace climbed the gate so she could see more.  As far as the eye could see: people.  Old, young, male, female, families. There were many fantastic signs, about 95% of which were positive in nature.
I was moved to tears over and over again during the day.  There was a tangible energy in the air, of cooperation and support, of love and energy and, yes, resistance.  But it was peaceful and strong and diverse. I'm a Bostonian through and through, and there are many times this city has moved me. The parades and the tragedies and the triumphs.  All of it.  But Saturday felt different, somehow, soft while still being resolved, determined. There were so many people, and yet it was calm, peaceful.
I kept looking at Grace and several of her friends, most of them 14 now, thinking about how they will vote in the next presidential election, about how I desperately want our country to be what they deserve.  Grace is paying attention.  I was so proud to watch her as she watched the crowd, noticed signs, and sensed the energy around her. I don't know that I have a specific conclusion other than to say I was tremendously moved to be a tiny part of the tidal wave that was this past weekend.  When I heard people chanting "This is what democracy looks like" I felt a frisson of acknowledgement, deep and true, that I believe that, and also of how far parts of our leadership have drifted from that.
In the days since Saturday I've seen one quote over and over again on social media.  My mother gave me a pillow years ago with these same words on it, and I love them:
Here's to strong women.
May we know them
May we be them
May we raise them.
Amen.  I'm grateful to be flanked by strong women in my own family, and I am more thankful than I can express to have been a small part of Saturday's demonstration.