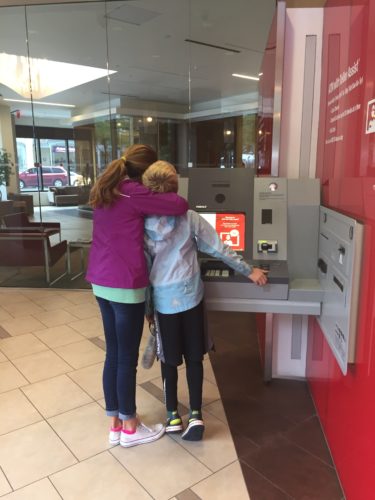 Photo on Sunday morning, doing errands with Grace and Whit in Boston.  We also stopped by one of my favorite buildings, the Boston Public Library. 
I'm writing this on Saturday afternoon.  Whit is doing homework in his room, down the short hall from my office.  Matt is reading on the first floor.  Grace is at a cross-country meet and I'm leaving soon to go watch her.  It's rainy and gray outside, a gloomy day through and through.
I'm feeling gloomy too.  Maybe it's the weather.  Maybe it's the relentless needs that everybody seems to have of me right now (this fall is particularly busy with stuff going on and it's all exacerbated by Matt's injury; I feel like I'm walking through life with one hand tied behind my back).  Maybe it's that I have been sleeping poorly and therefore I feel absolutely exhausted.
Maybe it's all three.
I can hear Whit down the hall, and he just said under his breath, "oh my gosh, it's October first!"  Which made me smile because that's what I sat down to write about too.  It's such a cliche but it's just so true: time is whipping by faster and faster, and I can hear the months whistle as they sail by my ears.
Perhaps because of the particular family situation this fall, or perhaps because the children are getting older and their needs seem more complicated, this fall feels like even more of a blur than usual.  Time's flying by, full of both bumps and beauty.  Each day feels full, from when I wake up in the pre-dawn darkness to when I collapse into bed as early as possible (but, these days, right after Grace goes to bed).  There are challenges and celebrations, races and games and tests and exams and school tours.  Each day feels small but significant, tinted with a sepia awareness of how short grow our days as a foursome at home.
Everything is poignant to the point of pain right now.  I'm tired and (even) more porous than usual and I know that's contributing, but daily I find myself on the verge of tears. What I need to do, I know, is return to the gifts I talked about just two days ago.  They are still there.  There's silver shimmering in the sand that fills my hands.  I just need to see it.