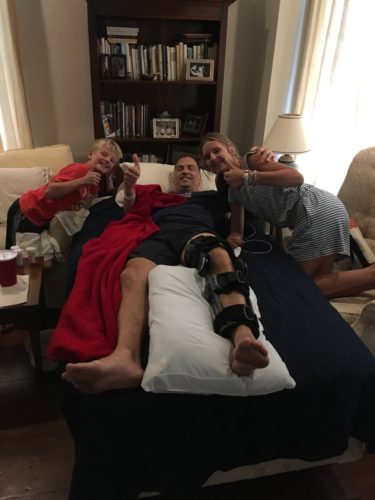 Matt the day after surgery.  Things actually went seriously south after this, but they are stable now.
For better or for worse, the last month has given me a lot of insight into certain friendships.  First let me say that Matt has an injury, not an illness, and he will be totally fine in time.  I realize this is a situation of great good fortune and that in the big picture this is just a hiccup.  It is also true, however, that this has been a substantially difficult few weeks in our  family's little life.  Reentry into school, restarting sports, all with just one driver and adding many (many) doctor's and PT appointments on top of everything else has been challenging. There were some additional non-Matt-related hiccups in the first week or two of September that added texture and complexity to our lives.  Everyone is fine now.
I also work full time, which is not inconsequential. In short, this has been a challenging time.  And certain people have absolutely blown me away with their support.  I will never forget the friends who showed up on our doorstep bearing food, sent gifts, or offered help.  People have sent and lent books and given many suggestions of things to read, watch, and think about.  People have come by to sit and keep Matt company for meals.  People have helped me with driving.
The kindness of people – family, close friends, and, frankly friends who weren't that close before (but are now) is hugely notable.  It goes without saying that not everyone has responded this way.  That's not what I want to dwell on.  What I want to consider, celebrate, and ostentatiously acknowledge, is the kindness of people in our lives who've gone out of their way to both help and check on us.  Even a simple text checking in and offering help goes SO FAR.  Seriously. The generosity of so many people has moved me and indelibly changed how I think about them.
It also has made me consider my own behavior in the past when friends near or far have struggled. I have been feeling a lot of guilt about certain instances in the past when I wasn't there enough for friends.  I did not realize the insensitivity of not checking in, and now I do.  There are the friends who show up, and my devout, deliberate intention going forward is to be one of them for those I love.  It takes so little, honestly.  A phone call.  A swing by when you're out doing errands.  A text.  I am sorry, and I am grateful, at the same time, all the time, right now.
Let's be the people who show up.