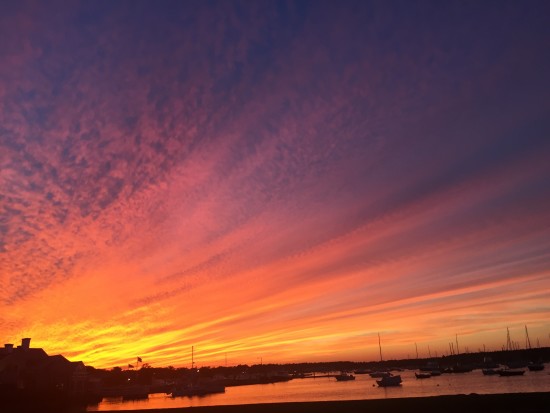 I think this is my favorite photo from the summer.  Sunset, no filter, July 4th, Marion, Massachusetts.
Summer 2016 was uneventful and calm until the end, when it was far too eventful.  June, July, and the first half of August held lots of family time and a bunch of no-child time and many books and runs.  Summer was a reminder of how deeply blessed I am on the friendship front, as I was lucky enough to spend time with some of the women I love the most in this world. It also reminded us of how fortunate we are, and of the line we walk on a daily basis.  Despite difficulty at the end of the summer, we turn into September more viscerally aware of our good fortune than before.
I suppose challenges have a way of reminding us of all that's good.
June started out with coding camp for Whit, then had hockey camp for Grace (meet my children), and then they spent 3 weeks with my parents doing sailing and tennis.  Matt and I spent weekends down there.  What a privilege to spend long empty days with both my parents and my children.  We had a marvelous reunion with my sister, her husband, and daughters, and all four cousins on my side of the family were together.  Then Grace and Whit went off to sleepaway camp for 3.5 weeks.  Matt and I laid pretty low during this time, weekdays working and weekends at the ocean.  We played tennis, sailed, swam, and read a lot of books.
We had a magical dinner with one of my oldest and dearest friends, Jessica.  She, her husband, Matt, my parents, and I had a relaxed, happy, wine-soaked dinner.  We debated and discussed and laughed and reminisced.  I'm grateful beyond words for her company on this road, the truest kindred spirit I've ever met.  I just wish we saw each other more.
I spent a weekend in Shelter Island with two of my three college roommates.  This was our second annual visit and it was even more spectacularly wonderful than the last one.  We swam off a boat, we watched a thunderstorm roll in, we played with one roommate's small children, we laughed so hard our stomachs hurt.
I read a lot of books, and will write a post about them shortly.  A lot of great fiction, as was my plan heading into the summer.
We had a week with Matt's family in Vermont, which was joyful, exuberant, noisy, full of waterskiing and tubing.  Matt's parents had all three sons and all six grandchildren together. A rare treat.
And then the summer ground to a quick, sudden halt.
Matt tore his hamstring severely while waterskiing. Then Whit was diagnosed with suspected Lyme and treated.  The last couple of weeks of August were not our best.  Matt had surgery on his hamstring (the injury was both significant and unusual).  He reacted poorly to the  drugs he was on after surgery and fainted not once but twice (both times I caught him) on the last day of August at home.  We had two 911 calls, and the second resulted in ambulance transport to the ER.  He was gray, clammy, and not fully awake.  I was very scared.  After many hours ruling lots of things out, they think he had a reaction to the medication, both anesthetic and pain killers.
Matt is resting quietly as I write this.  Our children are healthy and Whit's responded well to his Lyme treatment.  I feel tired and deeply thankful at the same time.  I have Pam Houston in my mind:
I was breathless and frightened by the frailty of miracles, and full of the fact of our lives
I hope you are all entering fall with awareness of your blessings, many happy memories from the summer, and some good books under your belt. Beginning September full of the fact of your life.  I know I am.