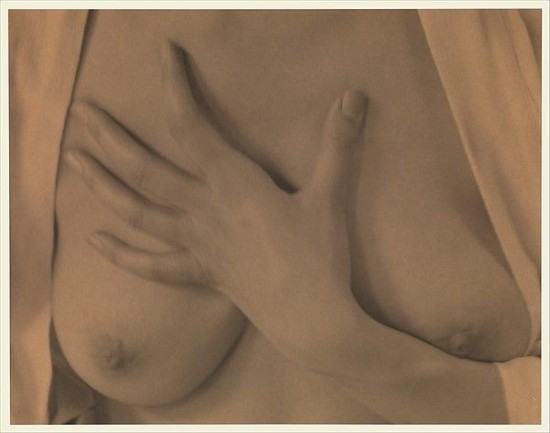 I almost wrote my thesis on Georgia O'Keeffe.  I wanted to do a joint thesis between the English and Art History departments, focusing on O'Keeffe's work (primarily her bone paintings) and the poetry of hd.
I didn't.  I ended up, as I've covered at length here, writing about the topic of the mother-daughter relationship in the lives and work of three 20th century poets (Anne Sexton, Maxine Kumin, and Adrienne Rich).  I addressed the ways in which writing and motherhood both enrich and challenge each other.  The photograph above, which Alfred Stieglitz took of Georgia O'Keeffe, was the frontispiece of my thesis.  I liked the way it captured – to my 21 year old mind – the interplay between creativity (the hands) and procreativity (the breasts – the fact that O'Keeffe never had children notwithstanding).
In the mid 1990s, my parents, sister and I went to Santa Fe after Christmas.  I don't remember much specific about the trip – my memories are mostly a haze of freezing cold and of lanterns sparkling in the early winter darkness – but I do vividly recall our trip to Georgia O'Keeffe's home in Abiquiu.  I can close my eyes and be back there.  There were stones and small bones on each windowsill, and the entire house was filled with a hush that even almost 20 years later I recall as holy.
I recently read Dawn Tripp's beautiful Georgia: A Novel of Georgia O'Keeffe
with great interest.  It's such a lovely book – compelling, entertaining, gorgeously written.  Tripp powerfully captures the interiority of an artist, both in Georgia's feelings about her own painting and in her reactions to Stieglitz's photography.
… when you make a picture – whether that picture is of a chair or a bird or a canyon – you have a chance to say something about what life is, and what it means to you.
This sentence took my breath away.  This is what writing is – and reading, too – to me.
Georgia also touches on complicated topics like motherhood and art (O'Keeffe did not have children) and the ways in which gender plays into both the making and marketing of art.  Certain parts of Georgia reminded of Lily King's stunning Euphoria
, in particular the exploration of subjectivity and the ways that male mentors/advocates were (are?) able to delineate how the public sees a female figure.  Initially, O'Keeffe experiences Stieglitz's immediate, intense belief in her talent and future as galvanizing.  Over the years, however, his view of the artist she is diverges from her own identity, and what had been an inspiration becomes limiting, and O'Keeffe chafes at the strictures of this man's strong vision of who she is.
For many years Georgia's identity is defined by Stieglitz's early (nude) photographs of her.  Despite her enormous power as an artist, she is first and foremost the images of her body, taken by a man.  This is a double insult: the female artist is reduced to her own physical self, and to one captured through the eyes of a man.  The male gaze dominates, and frames the women it sees.  Even in the 20th century.  Even now?  I don't know.
I loved Georgia
and I highly recommend it.  I closed the book with a sigh, sorry to have my visit into the mind and soul of an artist I so hugely adore and esteem over.  Tripp renders Georgia O'Keeffe, who is a somewhat distant, reserved, grave character, into a complicated, humane person, full of emotions and passions and loves and disappointments. That I feel like I know Georgia O'Keeffe personally now is a testament to the beautiful writing in Georgia
. Additionally, Tripp's prose about the American southwest is particularly spectacular, perhaps because I'm so fresh off our own trip to the Grand Canyon. I highly recommend this book, and wish I could go back to Abiquiu myself now.