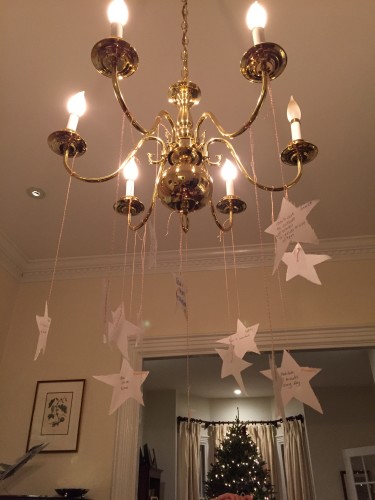 Our family resolutions, on New Year's Eve, with our up-much-later-than-usual tree visible in the background.
I've started the last few years writing about things I know, which is my version, I suppose of resolutions.  This year, Grace asked all of us to write down three resolutions on a paper star and hung all 12 of them from the chandelier in our dining room.  Over dinner, with our star-shaped resolutions spinning gently in the air above us, we talked about them.  Mine were pretty simple: Be here now, meditate 5 minutes every single day (I want to take a several-times-a-week habit and commit to it as a daily one in 2016), and stop snapping at my family.
In general, though, I don't much go for making resolutions.  Rather, reflecting on what the year that's closed has taught me feels like a good way to move forward into a new one.  So, with that in mind, I've been mulling for several weeks what I know now.  These dovetail, I find, with the resolutions I articulated when Grace asked me to.
I know that I need 8 hours of sleep.  I also know that I am prone to insomnia.  These two incontrovertible truths are often at odds with each other.
I know that the fastest way to gratitude and awareness of my blessings is paying attention to what's right in front of me.
I know that I love most of all the three people I live with.  It is too easy to treat those who are closest to us poorly.  We trust them, and so we fall apart with them.  But this is backwards.  They deserve the best of us, not the worst.
I know that I happier when I move my body every day.  Yoga, walking, running, spinning; it can take lots of shapes.  But it helps me sleep, it helps me be present, it helps me inhabit my physical self and thus my own life.
I know that my intuition about people and situations – which I refer to as my Spidey Sense – is very rarely wrong.  I need to start trusting it more often.
I know that poetry is my lingua franca, the language my soul speaks.  I need to read it often.
What do you know?  What are your resolutions, if you make them?