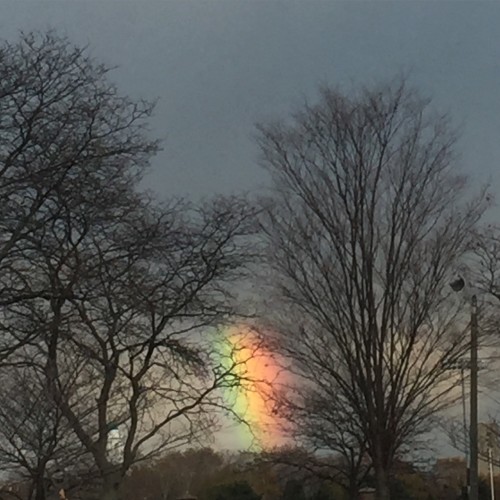 What a weekend.
On Friday I watched Grace's final cross-country race.  As we waited for the start, it rained.  And then an extraordinary rainbow appeared, like I've never seen before. The photo above has no filter.  There were a lot of schools at this final race, so there were separate girls' and boys' races.  Grace has had an excellent cross-country season but one speckled with a lot of anxiety; her fears about performance have gotten the best of her and propelled us to a place of wondering how to keep a sport she enjoys and is good at from being destroyed by nerves.  It's been an emotional few weeks as we grapple with how best to handle these worries.
In short, I wasn't really sure how this last race of the season would go.  I stood and watched as 73 girls lined up by school on the starting line.  The gun went off and I so devoutly wish I had a photograph of Grace as she strode across it.  She took the lead early and definitively but much more striking to me was the look on her face as she set off.  I have literally never seen her look so determined.  I told Matt I think on my deathbed one of the images of Grace I'll recall is her at that moment.  There was something both intimately familiar and brand-new on her face as she set out: serious, singele-minded, dogged.  Every tear from the month was there, too, but behind this new resolve.  I watched her in awe.
Off they went.  "I don't think she's going to win," I whispered to my mother, standing next to me.  A girl who came in 3rd in States to Grace's 12th was in the race, and there were a lot of runners.  "I just want her to feel good about it."  Mum nodded, agreeing.  We watched in silence.  Our home course is a straight out-and-back so there is no glimpsing the runners mid-race.  I stood with my parents and waited.  After what felt like forever we saw the first runner in the distance.  I could not tell if it was Grace.  I looked for her green sneakers, which have always identified her for me from far away, but I couldn't see them.  The second runner could be her, I thought, but the gait looked unfamiliar.  My chest felt tight as Grace came into clear view.  She was the lead runner, and she was way out in front.  Nobody was near her.  And what made me happiest was how masterful she looked, how strong, how confident.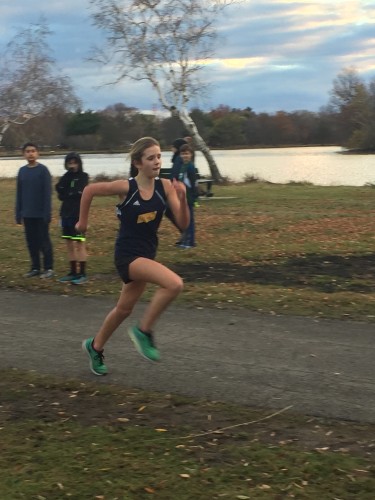 She crossed first, ending the season on a terrific high note.  I am proud but far more importantly, so is she.  And she feels good about having wrestled some demons this year and of having come out feeling she can still find joy in running.  I know this will not be the last time these fears raise their heads, but I also know that having vanquished them once will help give her confidence the next time they arrive.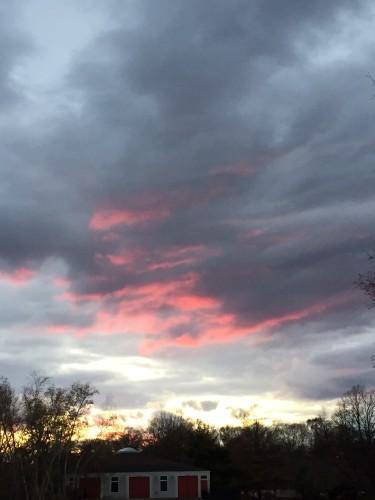 While Grace cheered on the boys' race, I watched the sunset over the Charles River.  I admired it, and photographed it, but felt a vague and inchoate sense of uneasiness too.  The sky looked thunderous, dramatic, full of portent.  Like the strange, eerily truncated rainbow earlier, there was something unsettled in the sky.  It was as we drove home that we learned about the Paris attacks.  The sense of accomplishment and pleasure of watching my new teenager running quickly dissolved into desperate sorrow and worry about the world.  I instagrammed a photograph I had taken of Grace and Whit lighting candles in a church in Paris 6 months ago.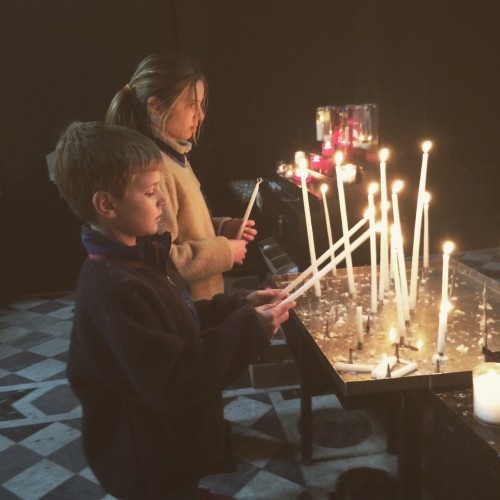 My mother confirmed that she heard from her cousin who lives in Paris and that his family was safe.  We spent the weekend doing family things but I had Yeats' seminal lines from The Second Coming in my mind the whole time:
Turning and turning in the widening gyre
The falcon cannot hear the falconer;
Things fall apart; the centre cannot hold;
It's hard not to be totally overcome with fear in moments like this.  The world feels like it's spiralling out of control, and everywhere we turn it seems like there is a threat (if not international terrorism, then home-grown school shooters).  We cancelled a trip to Exeter on Saturday to see the Exeter/Andover game, which I think came out of some deep-seated desire by me to stay home, stay together, stay quiet.  We told the children about the attacks and watched our family friend reporting on television from Paris.  They had lots of questions, which I tried my best to answer in a balanced way.
How quickly this life can shift, from rainbows and victory to heartbreak and fear.  I'm accustomed to some back-and-forth; it is how I'm wired, after all.  Yet the amplitude of the oscillations seems to be growing, and that unnerves me, I'll be honest.  I'm trying to remember the joy on my daughter's face as she sprinted across the finish line first, and the glow of that otherworldly rainbow, and even the way my son curled into me on the couch as we watched Christiane Amanpour reporting from the streets of Paris, familiar now to Grace and Whit as they have been so long to me.
I'm not willing to let go of my stubborn belief that there is much light in the world, but there are surely times when that belief feels more attenuated, when the darkness threatens to overwhelm it.  This is one one of those times.  Do you know what I mean?