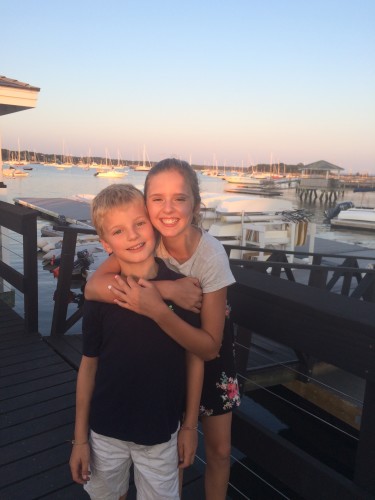 These are days so swollen and wonderful I can barely look at them directly because my heart aches.  It feels like staring into the sun.  I'm so aware of time flying through my fingers even as I grasp at it.  We're more than halfway through the summer.  This week the children go to sleepaway camp.  Where did it go?
When I originally began this blog, in September 2006 (O.M.G.) it was with the express intention of capturing the details of my life I knew I'd forget.  Grace was 3 and Whit was 1 and already I sensed I couldn't get my arms around this messy, marvelous, mundane life I was living.
So, returning to those roots, I want to try to remember things this summer, one that I know I'll recall always as thoroughly-lived.
The season of Percy Jackson.  Whit is cruising through the series.  He tried it a year or so ago and was not captivated.  I decided in June to give him #1 again to see what happened and he fell in love.  He's starting book 4 and taking it with him to camp.  We watched the movie of the Lightning Thief the other night and I'm smitten by the story too (fun fact: one of my favorite books as a child was D'Aulaires' Book of Greek Myths
).
The summer of nail art. Grace is an aspiring nail artist.  Nail art is not my thing, but she's way into it, and she's gotten pretty good!  She has done Fourth of July themed nails and is currently sporting stripes and anchors is a blue, pink, and white color scheme.
The season of the front seat. This summer Grace is in the front seat (she was all last year, too, but it seems we spend more time driving in the summer).  I'm getting used to looking over, seeing her there, having her driving the radio.
The summer of sleeping in for Grace.  She's been known to roll out of bed after 10:30.  I guess she's really getting to be a teenager!
The season (another) of hydrangeas.  Our front yard hydrangeas are in riotous bloom again, after a quiet year last year with very few flowers.  I love having them all over the house and can track summer's progression by their changing color.
The summer of Grace cooking.  She loves to cook for us and has made several delicious meals.  She's still working on the clean-as-you-go process, which I value highly, but it's so fun to eat what she's made and she gets tremendous satisfaction out of it. Next up, one of the recipes I read about on Motherlode (thank you, KJ Dell'Antonia!).
The season of family tennis.  We can now have a very competitive game of family doubles.  And we do.  Such fun.
The summer of swimming to the line.  For the first time, Whit joined us on a family mission out to the far border of the area that we're allowed to swim in at the beach.  He did great.  Now we can go as a foursome.  It's a long swim, and a great goal-oriented activity for people who have a little extra energy to burn off!
The season of independence.  Grace and Whit loved being with my parents in the small seaside town where they can go wherever they want on their bikes.  For the second summer, Grace volunteered at the local library.  Whit really took to sailing racing.  I love watching them stretch their literal and figurative muscles, growing stronger and more confident every day.
They are not long, these days of blazing sunshine, of pink sunsets out the window and lazy days at the beach.  Of children who are still not as tall as I am and who still want me to climb into bed with them before they go to sleep to snuggle and murmur prayers.  Of family sing-alongs to Top 40 in the car and laughing so hard my stomach hurts.
What is happening for you this summer?  How will you remember it?