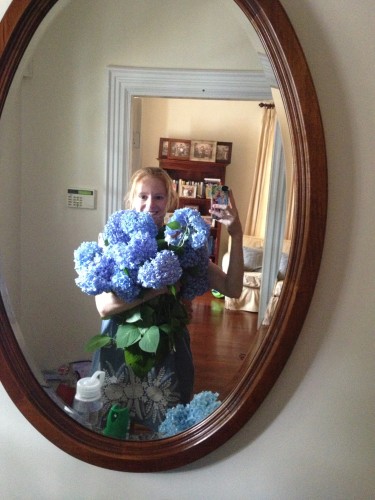 There is so much beauty in my front yard.  No, this metaphor doesn't escape me.

Last Friday morning, I spilled an entire cup of coffee on my laptop.  It died immediately.  I spent the next several hours at the Apple store, then, once home, on the phone with Apple customer service because setting up the new computer did not work as smoothly anticipated.  And by that I mean it was not smooth at all.  I was particularly panicked because the computer's hard drive was shot and the only chance I had at recover 25,000 photos and two books and a zillion essays was my external hard drive.
Thankfully, it worked eventually, but it was a long, emotional day, made harder because I was so furious at myself for knocking over the coffee in the first place.  Stupid and careless, yes.  Human, yes.
And let me say I'm aware of my great good fortune in even letting this be an issue.  Yes, I could go buy a new computer, and this is hugely lucky.  I know.  This is the definition of a first world problem.  All of what's going on with me right now is a first world problem.
But somehow the computer, and the stupidity, and the unanticipated expense, and the overwhelming terror that I had lost so many things that matter to me just broke through some final, gossamer-thin reserve.  I lost it.
I'm just really tired. The truth is this has been a difficult half-year.  Since January there have been a parade of health concerns and unanticipated stresses in our lives.  I've struggled to sleep and we all know that makes everything more difficult. Everything is fine.  Yes.  Everything is fine.  But it's felt like a slog, more than any other year I can recall.
There is still so much beauty.  I see it every day (which you can see on Instagram).  I hear poetry and quotes in my head on a daily basis, too, and they remind me powerfully of how extraordinary and rich my every day life is.  These observations buoy me; I described them in aggregate once as a sense of sturdy joy, and that's what they are.  I bob on these swells of awareness every day.  What I've learned is that this can be true and I can still feel not-great.  I try not to complain, and I'm aware how miniscule my concerns are in the grand scheme of things, but the truth is I'm really worn out.  This has been a challenging 6 months.
And yet it is just life, isn't it?  All of this.  The obstacles and the difficult days, the tiredness and the bickering children and all the ways adult life has wound more circuitously than we'd imagined.  This is life itself, and if I know one thing it's that waiting for the challenging stuff to be over is the ticket to wasting your days.  These obstacles are life.  And as long as I can see the beauty, and bury my nose in the hydrangeas, and gasp out loud at a sunset, well, then I think I'm still doing fine.  I read my friend Tara Sophia Mohr's post yesterday with a deep, settling feeling of recognition, identification, and thank-goodness-me-too.  This incarnation is not for the faint of heart.  No.  No, it is not.
Still, I wish a few days of ease, a few nights of sound sleep, some rest and peace.  That's what I hope for now.  Today is the first day of the second half of 2015, and I'm ready.