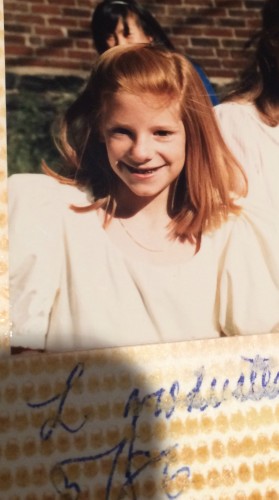 my sixth grade graduation, May 1986.  Sorry for the shadow and poor photo; the picture was so thoroughly glued to the page that I couldn't take it off to scan it, and I wanted to include my father's handwriting, because the carefully composed and annotated photo albums that he made are among my most-cherished things. 
Tomorrow, Grace graduates from sixth grade.
I remember the day that I graduated from sixth grade, in the same school, in the same building, better than I recall yesterday.
I'll sit in the gym that I've picked her up from for many years, and once again, my own memories will collide with reality and I'll fall down the telescope into that disorienting place where I am not sure what's now and what's then, what's me and what's her.  But even in this vertigo-like swirl of memory and emotion and time, something essential endures, the sturdy presence of my love for my daughter, a cord whose strength I'm trusting more and more.
I almost worry about saying that out loud, because I fear jinxing myself.  I've written at length (ad nauseum, even) about my fear of the distance that I know must mark these adolescent and teen years, and about what will happen to my relationship with Grace as we make our way through this time.  I know the red string that ties our hearts needs to stretch, and it will, but more and more, I'm also trusting that it will come back eventually.
We are again in the season of endings and beginnings.  Of commencement.  I feel like a broken record, but I find myself aghast, awestruck, frankly shocked by the velocity of time.  Life's whistling past my ears ever faster, just as I was told it would.  Even as I join in the celebrations, which are bigger this year than ever, because graduation from 6th grade is a big passage at our school, I'm sorrowful in equal measure, and Stanley Kunitz's feast of losses echoes in my head.
Last night was the sixth grade graduation party, and I was proud to watch Grace dance all night long, singing enthusiastically to everything from Journey to Katy Perry.  The moment I won't forget was when all the parents were dancing with our sixth graders, belting out the words to I've Had the Time of My Life.  Once again, then and now collided, and I found myself blinking away tears.  Time is confoundingly elastic, and the past – in the song, in the memories, in the dizzying blending of then and now – felt animate, tangible, in the present.
At our sixth grade graduation, in 1986, we sang Whitney Houston's The Greatest Love of All, and that night I co-hosted a graduation party with some friends at a local tennis club (I went on to celebrate my engagement to Matt, my 30th birthday, my mother's 60th birthday, and a host of other meaningful occasions in the same space).  It was a sunny and beautiful day and my conviction that the future spread in front of me, glittering, assured, was tempered substantially by my parents' recent announcement that we were moving to London after Christmas.  I recall sitting on the sidewalk outside of the tennis club crying about the departure, though I can't recall if that was before or after the party.  I also remember that one of our longtime babysitters DJed and that the last dance was Phil Collins' Separate Lives, played twice.
The full photograph above, which I cropped, includes the faces of three of my closest friends from lower school.  I'm grateful to still be in touch with all three of them.  I look around at Grace's friends and wonder who she'll still count dear in 29 years.
While it feels like only weeks ago that I stood there, it was almost 30 years ago.  Wow.  Tomorrow I'll go through the looking glass again, into the place where time and memory and love and loss swirl together into a heady mixture whose power can bring me to my knees.
Only one thing I can do.  Blink back my tears, look at my only daughter, my first child, and be here now.