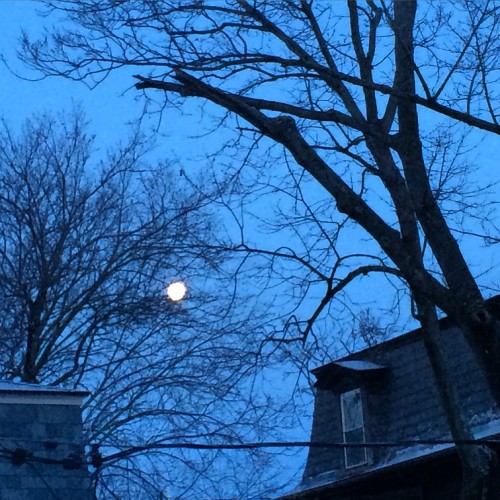 Beautiful morning moon, last week, on the way to school.
Through the comments on my post last week about vulnerability, I met a new writer whose work I'm enjoying.  In particular, this post, Dear Lonely Moms of Older Kids, really resonated with me.  It made me think about the fact that if parenting is an exercise in being vulnerable, perhaps as our children get older the challenges on the vulnerability front get harder.
This is turning out to be true for me.  I was telling someone recently about the single choice for which I received the most judgment as the parent of a young child.  That was the decision to let Grace, at 5, fly alone.  I felt comfortable with the decision, Matt felt comfortable with the decision, and Grace herself felt comfortable with it.  I have no regrets.  But for weeks and months after, I faced judgment from other moms on the playground which varied from thinly-concealed to outright and almost-hostile.
That was a long time ago, though, and it was an isolated incident.  Somehow the parenting decisions I make now feel more complicated, more fraught.  They have to do with what media I allow and messages about body image and technology and control over sleep and time.  I find myself saying with a metronomic regularity, "different families make different choices."  The risk of judgment if I make a choice different from those the parents around me are making seems higher than ever.  And while I know that judgment comes from a place of deeply-held wanting to do the right thing by our own children, it can still sting.
Vulnerability is closely tied with judgment and loneliness, both of which almost instantly make me feel "unable to withstand the effects of a hostile environment," which is the definition of vulnerability I'm working with these days.
So I feel more judged these days, mostly because I think the decisions feel bigger and more important.  Maybe also because I am increasingly aware of my identity as a working mother, and the more I own that, the more I open myself up to feeling judged about it (some of which I'm entirely willing to admit may be in my head).
I also feel more lonely in general these days now that my children are older.  Lonelier because I'm working more, which is happening for a million reasons.  One of those reasons is that they're busier, so I have more time to work.  Lonelier because the intensity of new-friend-making that marked the first years at school has abated.  The moms have their friends.
But I also feel, and it's hard for me to admit this, lonelier for my children.  They're busier, and, more importantly, they're doing what they are supposed to be doing, which is separate from me.  This is more pronounced with Grace, who's older and plunging into adolescence with a speed that makes my head spin.  But still, there's a marked change in degree of daily intimacy with my children and the truth is I mourn this development.  They also have to judge me as they separate, there's no question about that.  Again, it's something I'm seeing more with Grace than with Whit, but there's some withering scorn sent my way these days that is new.
All of these factors combine to make me feel more vulnerable now that my children are older.  In those first months of parenting Grace, when I was more depressed than I have ever been in my life, when I was reduced to a shell of a person, I couldn't have imagined another experience would ever disassemble me so entirely.  Yet here I am.
But maybe this isn't about my children at all?
Some of this may just be being in a vulnerable moment in life.  I feel buffeted by the hostile environment, often, these days.  A friend called me recently with "news" and I told Matt I honestly didn't know if she had cancer or was pregnant.  Joyfully, it was the latter.  But we're perched on a knife edge, it feels like, in this middle place, with peril all around us and still, so much heart-shattering joy.
Maybe this increasing sense of vulnerability is just that as I age I grow more comfortable with my own porousness, let down my well-development defense mechanisms, and let more of life – the startling beauty as well as the bitter loss and pain – in.  As much as it slices me, this shift, I don't think I'd want it any other way.