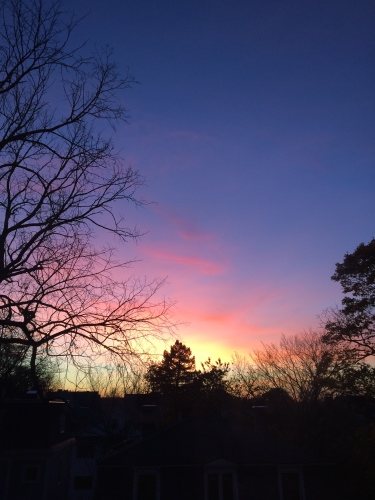 The truth?  It has been a difficult month.  For a few weeks now I've been having that world-is-slightly-off-its-axis feeling more days than not.  A soul-level unease that manifests in clumsiness, over-reactivity, and exhaustion.  Do you know this feeling?  I've been dropping eggs and feeling more impatient than usual in various parts of my life, taking things personally (despite my own constant reminders to others and myself that I realize things are almost never about me) and forgetting things, sleeping hard and soundly but never feeling quite rested.
I've also been more aware than usual of trust, feeling cautious about where I place it, observing that everywhere I go people seem to be talking about other people.  This makes me more and more uncomfortable, this behavior.  As I've acknowledged many times, I'm a porous person, but lately that aspect of my personality is frankly overwhelming, and I can't get out of my own way.  Every day I am startled by sharp words and sliced by unexpected, jagged emotions.
And still.
And yet.
The parade of glorious sunsets out my window takes my breath away and almost every night my heart lifts as I tuck my children in.  There is so much beauty here, even in a month that has been difficult for reasons I don't understand.
Is this what happiness is, the awareness of all this grandeur even in the midst of painful hours?  I don't know.  I told someone recently I'm not sure traditional, unalloyed "happiness" is part of my emotional arsenal.  But this feeling may well be contentment.  And that, I'll take.
This is relatively new to me, this thrum of peace underneath all of the emotion.  In July I observed in myself a sturdy sense of joy and it's this that is carrying me now, I think.
Inside me there has been a kind of deep settling and an emotional sigh.  Now, when I glance at all the corners of my life I notice both the piles of dusty regrets and the glittering treasures.
I can't imagine a better way to live my life.  And for this, I offer the most profound thanksgiving I know how to express.
I say the only prayer I know how to say: thank you.
I posted this last year, on November 27th, and it's exactly how I have been feeling for the last several days.  Maybe it's a time-of-year thing.  I sure hope so.  Can't keep yelling and dropping eggs!