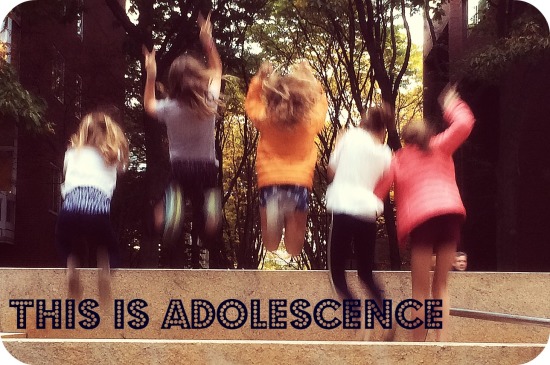 Last year, I was happy to participate in This is Childhood, the writing series that captured snapshots of each age, 1 to 10.  The series became a book, available now on Brain, Child (a great holiday gift!).  Now, I'm delighted to announce the launch of This is Adolescence, a series which takes off where This is Childhood ends.  This series is the brainchild of my friend, Allison Slater Tate, for whose company as I enter this next phase of motherhood I am deeply grateful.  My oldest child is 11, and hers is 12, and we communicate regularly about this moment's particular joys and challenges.
Starting tomorrow, a writer will be sharing their reflections, personal and universal at the same time, on parenting children in adolescence.  I'm flattered (and nervous!) to be kicking us off with eleven.  The lineup of writers includes some of my personal favorites, and it is a distinct honor to join them.
Eleven – me
Twelve – Allison Slater Tate
Thirteen – Bethany Meyer
Fourteen – Catherine Newman
Fifteen – Jessica Lahey
Sixteen – Marcelle Soviero
Seventeen – Shannon Duffy
Eighteen – Lisa Heffernan
I hope you will enjoy this series as much as I know I will.