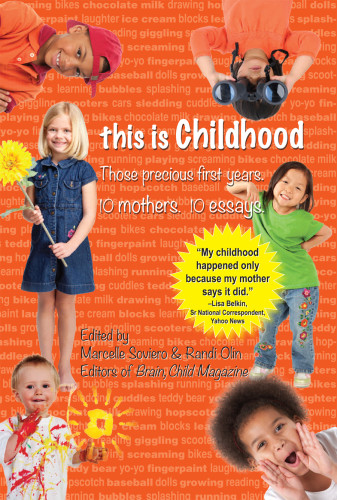 This is Childhood – Last year, I joined 9 other writers in a series called This is Childhood which celebrated each age between 1 and 10.  I'm happy to say that the series, along with significant additional material (including a foreword by Lisa Belkin), is being sold as a book by Brain, Child.  I am biased but I think it would make a terrific Mother's Day gift!  You can find out more and purchase the collection here.
What Would Gwyneth Do – Raluca's blog, which combines serious with fun in a way I love, is one of my must-reads.  She has terrific style, great menu ideas, and a tremendously thoughtful series on working motherhood that was a major inspiration for me when I started my own.
Writing Memories – This poignant essay by Lauren Apfel about how she wrote to capture the "slippery fish" of early childhood moments and about her effort to make the earliest years of her childrens' lives hold still rang very true for me.  She says, perfectly, that "in between the task of chronicling life is the business of living it," and describes how her writing about her children has changed as they get older.  Beautiful, powerful, thought-provoking: this is wonderful writing.
I Refuse to be Busy – While I love all of KJ Dell'Antonia's writing on Motherlode, this post struck a particular chord.  I'm grateful for the reminder of something I believe deeply, that all of life is a choice.  Being busy or frantic or not is in large part about our mindset, and the choices we make about our time reflect that which we value.  Let's all be deliberate about how we spend our only zero-sum resource, our time.
Keepers: Two Home Cooks Share Their Tried-and-True Weeknight Recipes and the Secrets to Happiness in the Kitchen

– I've been meal planning.  I KNOW.  It feels awfully grown up, and only a small step past flossing, which I've also begun doing regularly.  I must be getting ready to turn 40.  Anyway, this is my new favorite cookbook.  I adore it!
 What are you reading, thinking about, and loving lately?
I share these Things I Love Lately posts approximately monthly.  The others are all found here.